José Bosingwa says QPR manager Harry Redknapp is deluded and acts like an "Alex Ferguson figure".
Redknapp criticised Bosingwa in his autobiography over the Portuguese's attitude during QPR's disastrous 2012-13 Premier League campaign.
The Rs finished bottom of the table and both Redknapp and Bosingwa laughed moments after the club's relegation was confirmed following a 0-0 draw at Reading.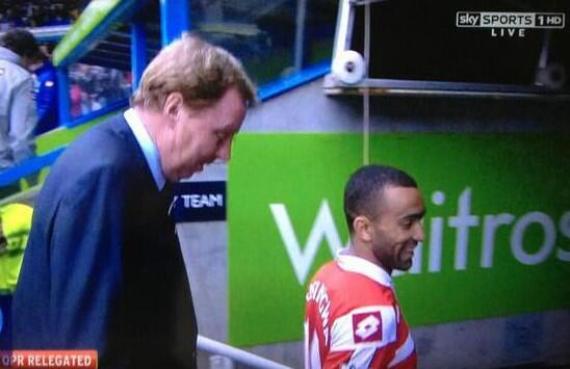 Redknapp and Bosingwa both chuckle after QPR are relegated
Redknapp suggested Bosingwa "wasn't going to give his all" and labelled his attitude "disgraceful".
Bosingwa, now at Turkish club Trabzonspor, belittled Redknapp's coaching style.
"I forced no one to give me the salary I was offered. They hired me on the conditions they thought were correct for a player who came from Chelsea for free," he told A Bola.
"How can he [Redknapp] make technical analysis of the players at training when he is almost constantly in the dressing room dealing with agents and rarely turns up on the pitch?
"He's obviously frustrated. By the way he speaks he thinks he is a type of Alex Ferguson figure, but there is a difference: throughout his long career, he has not won a single trophy."
Redknapp actually won the FA Cup with Portsmouth in 2008 but it is the only major trophy he has lifted in a managerial career spanning three decades.