French MP Philippe Le Ray has sparked outrage after he mocked a female rival by clucking like a chicken in parliament.
Green Party MP Veronique Massonneau was forced to stop her address to the National Assembly in Paris when conservative, Le Ray, began to make the chicken-like noises.
The incident was widely denounced as sexist in a country where the word chicken is often used as a derogatory term for women.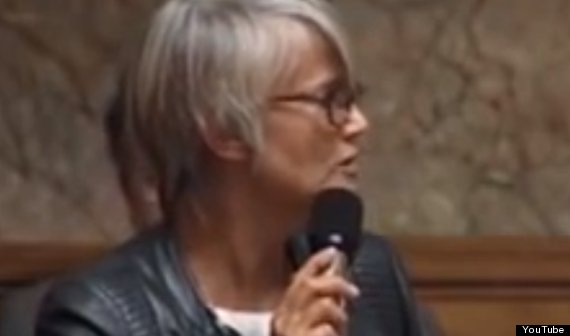 Green Party MP Veronique Massonneau
When a visibly furious Massonneau resumed her speech, the clucking restarted, prompting the president of the National Assembly to step in.
Massonneau demanded Le Ray stop, saying. "I am not a chicken," before continuing with her address.
TOP NEWS TODAY
Tropical Ecosystems And Economies Will Be Devastated 'Within Our Generation
Briton, Lynne Spalding, Found Dead In San Francisco Hospital Stairwell
Drunk Passenger Strips Naked At Manchester Airport, Gets Tasered (VIDEO)
Gözde Kansu, Turkish TV Presenter, Fired For Wearing Low-Cut Top
Madeleine McCann Possible Suspect E-Fit 'To Be Released By Police
The office of the assembly's president has now said Le Ray would be fined a quarter of his monthly salary, or about €1,300 (£1,100).
The speaker of the National Assembly, Claude Bartolone, briefly suspended the parliamentary session during the incident, which he described as "unbelievable behaviour".
Bartolone denounced Le Ray's behavior when members returned to the chamber.
"There are things I will never accept in this chamber," Bartolone said.
"One of them is deputies pretending to be chickens when a member of parliament is speaking. It is not acceptable."
Another female MP from the Green Party, Housing Minister Cecile Duflot, was subjected to jeers and wolf-whistles last year for wearing a dress in parliament.
One MP later argued they were simply admiring her beauty.