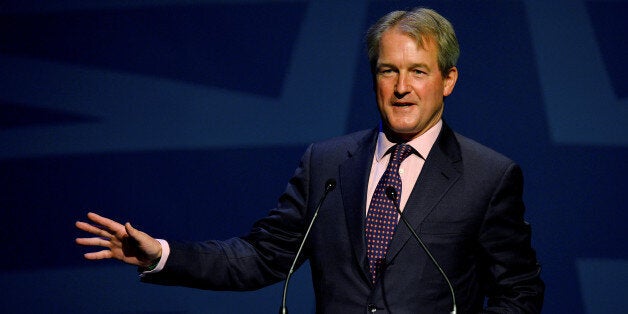 The five things you need to know on Monday 14 October 2013...
1) WICKED (IN THE TRADITIONAL SENSE)
Opponents of genetically modified food allow children to "go blind and die because of a hang-up by a small number of people", according to Owen Paterson. The environment secretary hit out at campaigners such as Greenpeace and Friends of the Earth as "wicked" (that's in the bad way not in an embarrassing down-with-the-kids good way) in an interview with The Independent. He said were scuppering crucial nutrition programmes in the developing world.
"It's just disgusting that little children are allowed to go blind and die because of a hang-up by a small number of people about this technology," he said. "I feel really strongly about it. I think what they do is absolutely wicked."
Today's Memo is edited by Ned Simons as Mehdi Hasan is out fox hunting with a 'full pack of hounds'.
2) BORIS 'KABOINGS' PRESS REGULATION
Boris Johnson has warned the government's Royal Charter for press regulation is "on the verge of eroding the freedom of the press". Writing in his Daily Telegraph column today, the mayor also suggested the plan was MPs taking "revenge" on newspapers for the expenses scandal
"Stuff all this malarkey about the Privy Council and a Royal Charter. Who are the Privy Council, for goodness' sake? They are just a bunch of politicians, a glorified version of the government of the day," he says. "Why are we embarking on this monstrous folly? Because of a string of essentially political embarrassments that led to the Leveson Inquiry – and at the beginning of it all was the expenses scandal, and the sense among MPs that they had been brutally treated by the press."
On a side note, Boris also recounts the time his family put bananas in a reporters exhaust pipe and watched her "kaboing-ed up the road".
There is no limit on the number of Chinese tourists and students who can come to Britain, George Osborne has said. The Chancellor, who is leading a trade mission in China, told students in Beijing his visit was about "much more than a collection of business deals". Osborne said he wanted to make it clear to the whole of China that there is no limit on trade with Britain or the number of Chinese people who can come to study or visit. Osborne's push came a day after he announced a relaxation of the visa rules for Chinese nationals - amid complaints the current regime is a deterrent to more high-spending visitors coming to the UK.
BECAUSE YOU'VE READ THIS FAR...: Jimmy Fallon And Benedict Cumberbatch Have An 'Alan Rickman-Off' And It's Perfect
In the United States Senate Republicans and Democrats hit an impasse Sunday over spending in their last-ditch struggle to avoid an economy-jarring default in just four days and end a partial government shutdown that's entering its third week, The Huffington Post reports.
After inconclusive talks between President Barack Obama and House Republicans, Senate Majority Leader Harry Reid, D-Nev., and Minority Leader Mitch McConnell, R-Ky., took charge in trying to end the crises, although a conversation Sunday afternoon failed to break the stalemate. The two cagy negotiators are at loggerheads over Democratic demands to undo or change the automatic, across-the-board spending cuts to domestic and defense programs that the GOP see as crucial to reducing the nation's deficit.
5) FOXHUNTING ... A LITTLE BIT
According to the Daily Telegraph the foxhunting ban could be lifted to allow full pack of hounds to help kill foxes in England and Wales. he paper says "one of the most contentious pieces of legislation in modern times" could be watered down in a move that is sure to outrage animal rights campaigners already pretty ticked off at the government over the badger cull. The paper notes that farmers say attacks on lambs have been on the increase, signalling that limited pest control measures allowed under the Act are not working.
@GrahamAllenMP The rich and powerful defending free speech?The weak Royal Charter does zero to diversify ownership. One man one newspaper/ media outlet!
@StewartWood The world economy can't both be Cameron's 'Global Race' & Osborne's 'Global Cake' providing bigger slices for all as it grows. Which is it?
Chris Huhne in The Guardian: Despite the tough talk, this government is far too soft on tax evasion
John Harris as in The Guardian: The Tories are creating a hostile environment – not just for migrants
Boris Johnson in the Daily Telegraph: It's a vigorous, voracious press that keeps our country honest
Got something you want to share? Please send any stories/tips/quotes/pix/plugs/gossip to Mehdi Hasan (mehdi.hasan@huffingtonpost.com) or Ned Simons (ned.simons@huffingtonpost.com). You can also follow us on Twitter: @mehdirhasan, @nedsimons and @huffpostukpol