An innovative non-profit charity has set about laser-scanning 500 at-risk heritage sites to compile a 3D digital archive for future generations.
CyArk will use state-of-the-art imaging techniques to 'preserve' such wonders as Pompeii, Babylon, Mt. Rushmore, the Leaning Tower of Pisa, the Titanic, the Sydney Opera House and the Tower of London.
Co-founder, Ben Kacyra, said: "Our mission is to create a 3D-digital library of the world's most important heritage sites.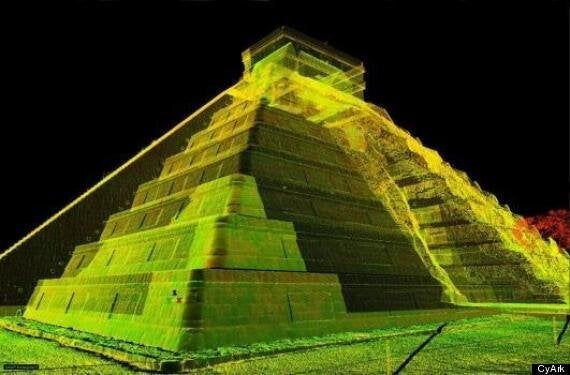 Chichen Itza in Mexico is one of the sites that has been mapped
"While there isn't enough time or money to save all these sites physically, we have the technology to digitally preserve them.
"By doing so, we will ensure that these treasures are available for appreciation and study for years to come. It's not an option; it's our responsibility.
"Otherwise, we will lose our shared history and an important piece of our cultural identity."
The technique used by CyArk combines 3D-laser scanning and other reality-capture methods and is accurate to within 2-6mm.
The project was launched at a special event at London's Tower Bridge on Monday.
Cyark was the brainchild of B Iraqi-born engineer and entrepreneur, Ben Kacyra, wh has a personal reason for it's inception.
He told Gizmodo: "I grew up in the city of Mosul in northern Iraq, and when I was a little child my father would take me by the hand to the Gates of of Nineveh.
"When the Taliban dynamited the Bamiyan Buddhas in 2001, I realized the same thing could happen to Nineveh—or any other heritage site. And it needn't be destruction by man, but by natural disasters or erosion."