The social media site has announced it is to lift its ban on such videos -- as long as they are being condemned rather than glorified.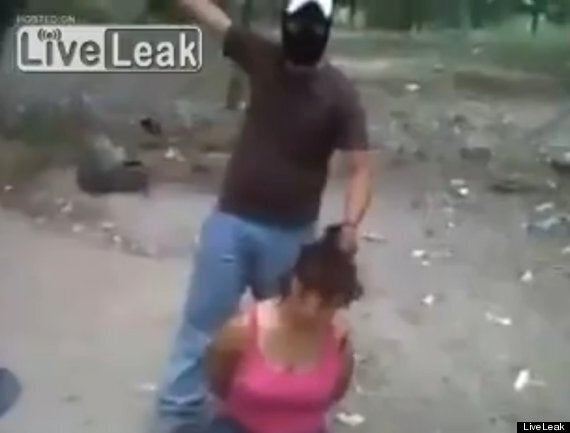 A still from the horrific clip that prompted the ban
It also said it would introduce controls to make such material harder to access.
"While this video is shocking, our approach is designed to preserve people's rights to describe, depict and comment on the world in which we live."
The video drew many complaints from individuals and groups such as the Family Online Safety Institute (FOIS) who complained that graphic violence could be viewed by all users, some as young as 13.
But now they have performed an about turn.
A spokesman told the BBC: "Facebook has long been a place where people turn to share their experiences, particularly when they're connected to controversial events on the ground, such as human rights abuses, acts of terrorism and other violent events.
"People are sharing this video on Facebook to condemn it. If the video were being celebrated, or the actions in it encouraged, our approach would be different.

"However, since some people object to graphic video of this nature, we are working to give people additional control over the content they see. This may include warning them in advance that the image they are about to see contains graphic content."
Facebook also sought to use the Boston Marathon Bombings as an example of the difficulty in banning shocking imagery.
A spokesman told Gizmodo: "One instance that really brought the point home occurred earlier in the year. It was the Boston marathon bombing, and there was a gentleman whose legs had been blown off. If we'd had a more conservative stance, that image would not have been allowed on the site.
"What we want to do is give folks the right balance of being able to control what it is they're seeing. We're definitely aware that this is not the perfect policy. We're always trying to improve it."
The move has angered those who initially opposed the material.
Commenting on the controversy, Prime Minister David Cameron said Facebook was "irresponsible" for lifting the ban.
"It's irresponsible of Facebook to post beheading videos, especially without a warning. They must explain their actions to worried parents."
FOIS leader, Stephen Balkam, said: "I would have expected a heads-up on this.
"I'm very unhappy that these have gone back up and that they have gone up without any warning. First thing tomorrow morning I intend to raise this with Facebook."