Rihanna - you may remember - embarked on a massive PR relations exercise earlier in the year, inviting 150 journalists and 50 diehard fans along with her on her private aeroplane, as she embarked on a globetrotting tour of seven countries in seven days with seven shows, to promote her seventh album.
Just another normal day... Rihanna addresses the press
The result of this part military marvel, part megalomaniacal mayhem, can be seen on Saturday evening, when 4Music broadcasts 'Rihanna 777' - the official tour documentary.
Viewers will witness Rihanna as a flight attendant, see her performing seven shows in Mexico City, Toronto, Stockholm, Paris, Berlin, London and New York on barely any sleep and understand how she tries to balance her fans expectations' as well as her personal life.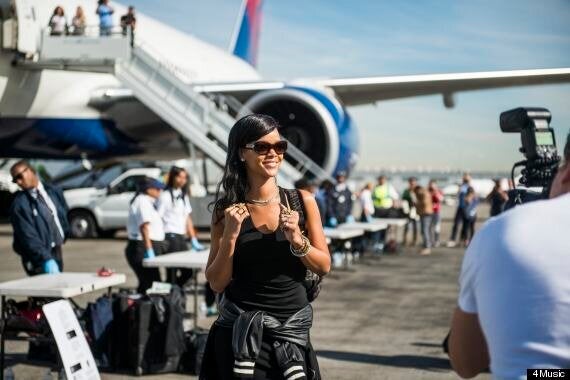 7 countries in 7 days, and still smiling... Rihanna on tour
We've laid our mitts on some clips ahead of schedule, including Rihanna stressing out over tour sickness above - and it's enough to make you wonder - if this is what they allowed in the final film, what else is out there....... ???
Rihanna parties with journalists on the plane...
Rihanna orders curry in fake British accent...
And finally, the topic you've never had to ponder, Rihanna explains why she's a rockstar...
Rihanna 777 airing on 4Music, Saturday 26th October at 7pm. 4Music Channels: Freeview 18, Sky 360, Virgin 330 and online here
Popular in the Community