Kuwaiti referee Saad Al Fadhi might ponder penalty decisions a little longer in the future after the chaos which ensued during Al Nasr and Al Arabi's clash.
With Al Nasr 1-0 up in stoppage-time, Al Fadhi awarded Al Arabi an obvious penalty and furious Al Nasri players swarmed the referee. Big mistake.
The intrepid Al Fadhi floored Al Nasr's Ibrahima Touré with a left-hander, kicked him as he got back to his feet and then, hilariously, send him off.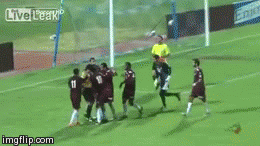 Al Fadhi wasn't finished there, despite the efforts of his assistants to calm him down. Another player was red-carded before he headed over to the touchline to send a sheikh to the stands.
Eventually, Al Arabi scored their penalty to level the game, which compelled Al Nasr's Eder Luis to hurl the ball at Al Fadhi. So he was dismissed as well.
Eventually, Al Arabi won 4-1, even though two goals were scored.
Popular in the Community