In the Gran Meliá's penthouse, Ruud van Nistelrooy is swigging beer with a couple of mates watching Real Madrid beat Juventus in the Champions League.
Van Nistelrooy hasn't just rented the top floor's premium room for a beery night in watching football. As a Champions League legend, he is an ambassador of Heineken, and on this summery Wednesday evening he is inviting football fans to "Share the Sofa" with him.
Every matchweek, Heineken have a former footballer sit down and watch a game, simultaneously answering questions posed by tweeters.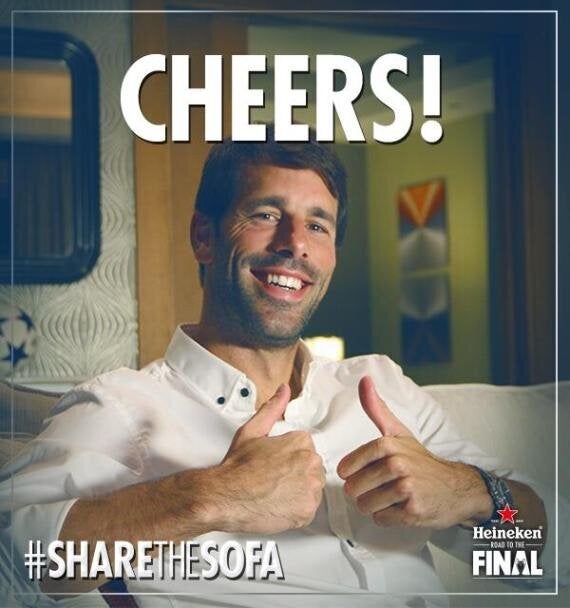 Van Nistelrooy on the sofa
The questions range from the game itself to Van Nistelrooy's experiences as a player. Sir Alex Ferguson's book was released the previous day, which makes the timing more appropriate.
Van Nistelrooy, frank and friendly when he was playing, is franker and friendlier in retirement. He doesn't recoil at a question and answers thoughtfully. It is easy to envisage a footballer - past or present - dismiss a question and have an agent or PR representative concoct a diplomatic answer in these situations. Van Nistelrooy, however, is candid and doesn't do sugarcoating. His agent isn't even present.
The share the sofa initiative, started this season, will go beyond the group stage into the knockout rounds and the final. Losing 2005 finalist Hernan Crespo is the next guest.