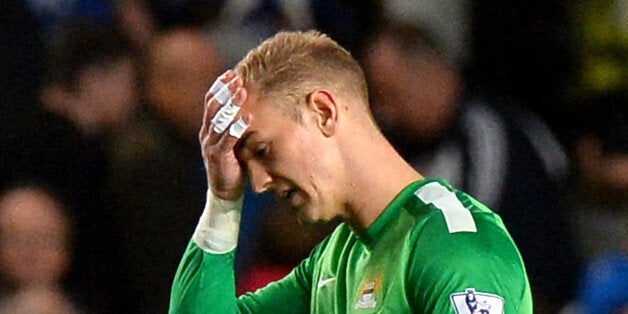 Manuel Pellegrini stormed straight down the tunnel. José Mourinho had made some disingenuous remarks about him in Spain but warmly shook his hand prior to the game. Furious at Manchester City's third Premier League defeat, perhaps the Chilean was furious with himself for standing by Joe Hart.
Fernando Torres' winner is arguably the 10th goal Hart is culpable for this season. He skulked straight off at the final whistle and shrugged off a consoling pat from Pablo Zabaleta.
"Ross Turnbull, he's better than you," the Shed End chanted at him, referring to Chelsea's former third-choice goalkeeper.
He was not the only one complicit in the tragicomic goal City gifted Torres. Matija Nastasić fatefully assumed Hart would be in his area when he headed the ball over his goalkeeper's head, but Hart's rush out of his 18-yard box was rash. Again.
CHELSEA 2-1 MANCHESTER CITY: THIS TIME, TORRES IS BACK
"We are losing stupid points," Pellegrini said. Usually a soporific speaker, his post-match press conference was fraught with a quiet fury.
"I didn't want to shake his hand," he replied when asked whether he had exchanged pleasantries with Mourinho away from the cameras.
Pellegrini refused to comment when asked about Hart's error and refused to comment when asked if Hart would remain his No.1 goalkeeper. It sounded ominous.
Hart has cost City 12 points in all competitions this season. Scotland, Cardiff, United, Villa, Bayern, Everton and now Chelsea have all beaten him with alarming ease. Pellegrini has already pledged his loyalty to the England goalkeeper but it is has been tested again.
Costel Pantilimon is a dependable deputy who will play in the Capital One Cup tie at Newcastle on Wednesday and it sounds like he could be between the sticks for Norwich on Saturday.
Earlier this month, Hart's three mistakes against Bayern Munich should have cost him his starting berth. Instead Pellegrini retained him for Everton's visit, where he flimsily allowed Romelu Lukaku to score. The difference with the Lukaku error was it did not cost City, though it did paper over the keeper's cracks.
One of the excuses is Hart has had no competition when, as Roy Keane amusingly retorted on ITV, he would have if the other goalkeepers were played. Pellegrini has to take some of the blame.