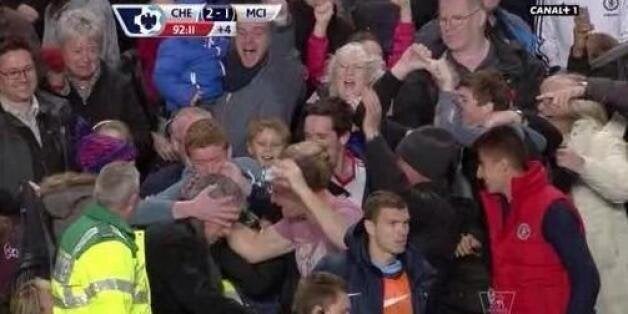 Mourinho stormed into the crowd behind the away dugout after Torres scored in the 90th minute and hugged a group of teenage boys.
The Portuguese clarified the person in question was his son and jokingly blamed Chelsea.
"I think Chelsea are guilty, because I wanted to buy season tickets for my son, and they give season tickets for my son behind the opponent's dugout. They have to change and give my kid tickets behind my dugout.
"So I went for him, I promise. And next match you will see him there again. This is the drama of the last minute.
"Last year, I beat Manchester City in the last minute in Madrid and I slid on my knees. I destroyed the trousers.
"If they believe my son is there, great, if they don't believe, I apologise."
During his time as Real Madrid coach, Mourinho made disingenuous comments about Manuel Pellegrini, his predecessor at the Santiago Bernabéu and now City manager.
Pellegrini stormed down the tunnel at full-time without shaking Mourinho's hand and said he "didn't want to" during his fraught post-match press conference.
Mourinho offered his apologies.
"He lost a game in the last minute and I have sympathy with that. Many, many times in other cultures, other countries, we shake hands before the game and that is enough. I don't feel it was a lack of respect.
"If he was sad thinking that I was doing something wrong by going to celebrate there, I accept that, too. So no problem."