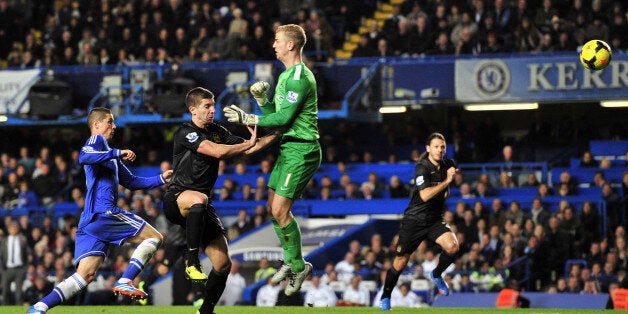 A strikerless formation at Manchester United and narrow escape at White Hart Lane resulted in stalemates, with Mourinho receiving a barrage of criticism, in particular, for the goalless draw at Old Trafford.
He admitted he has retained that pragmatic streak but could not resist aiming a dig at his predecessor and nemesis, Rafael Benítez. Mourinho, who had done his homework on Chelsea's two defeats and one draw to City last season, was unimpressed.
CHELSEA 2-1 CITY: FERNANDO TORRES IS FINALLY BACK
PELLEGRINI ADMITS HE COULD FINALLY DROP HART
"I watched every game of Chelsea against City in the last year. I saw the game at Wembley, the game at home, the game at City, I saw even parts of the friendlies in the States. Mental. Not tactical. Nothing. Mental.
"Afraid to assume. Afraid to go. Afraid to say we want to win, we can win. Reacting when losing. So the important thing today was how we started the game."
"I feel sympathy for them because I know what it is to lose in the last minute it is a difficult feeling but of course, it is a great moment for us.
"In the first half we played fantastic against a fantastic team, and that is not easy. We were dominant, we played well, we were beautiful.
"When everybody was expecting a draw I tried to play Samuel [Eto'o] and give a little bit more, but I don't want to risk too much because if you lose you are losing points against a direct contender. They didn't want to win, too, because they changed a striker for striker and put Kolarov in midfield."
Mourinho was understandably delighted with Torres' performance but recoiled at the suggestion he was behind the Spaniard's resurgence.
"Fantastic performance," he purred. "And even better because he missed an easy goal. When a striker misses an easy chance, many, many times he is affected for the rest of the game.
"I did nothing," Mourinho replied when asked about Torres' sudden potency. "It is easy enough for me to say, 'We did this, we did that,' but we did nothing. We used methodology, we believe our methodology improves players by the aspect of sharpness and speed, the first 15 or 20 metres. So I think it's the methodology that helps the players. He has worked very very hard.
"What I know since I arrived, since the first day, he has worked very, very hard every day. And sometimes he was on the bench and sometimes he was not selected and sometimes I left him at home, and every day he was the same. So credit for him.
"The fans were amazing, they support him a lot. He is sharp and powerful, his belief is high. It is an important victory against a team we couldn't beat last year, even in the friendlies."
Arsène Wenger's Arsenal are next on the agenda, but mellow Mourinho was keen to stress the animosity which lingered between him and Wenger during his first era at Stamford Bridge has gone.
"No, we have no problems... Unless he had an influence on this. If you tell me that..."
Mourinho reserved the last laugh for the press.
Related