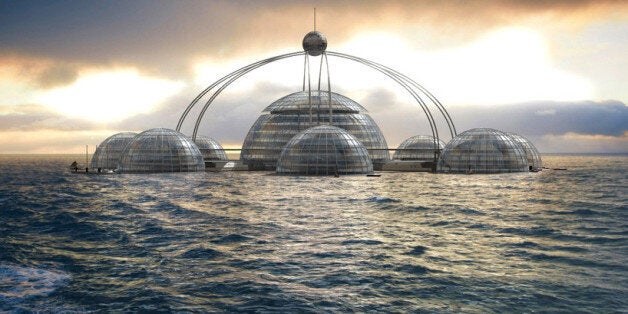 A British designer has unveiled his updated plans for a futuristic underwater city that almost certainly would not become the stage for a post-apocalyptic nightmare.
The Sub Biosphere 2 (SBS2) was first 'created' by Londoner Phil Pauley about three years ago, inspired by the original Biosphere 2 project and his own dreams of living underwater.
SBS2 is conceived as totally self-sustaining, allowing human occupants to live totally separate from the land. It includes eight 'biomes' arranged around a central 120m-tall support biosphere. The structure would be a total of 340 metres wide, and half of its living space would be below water even when the structure is above the surface.
Pauley's designs allow for life-support systems including air, electricity, food and water generation, controlled by a clever use of atmospheric pressure. SBS2 would be able to move vertically above and below water, which would be handy during intense storms.
"The Sub-Biosphere 2 is the original self sustainable underwater habitat designed for aquanauts, tourism and oceanographic life sciences and longterm human, plant and animal habitation. This unique underwater habitat sustains all its life support systems for air, water, food, electricity, and other resources through its innovative control of variant atmospheric pressures that occur at depth."