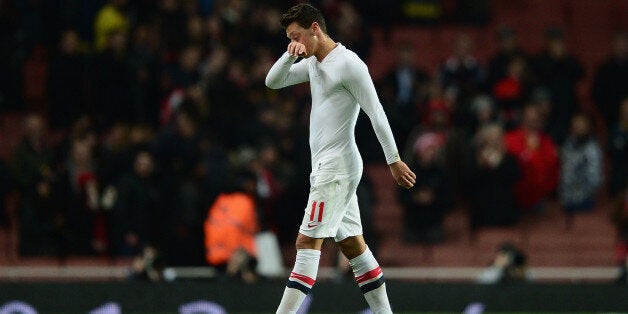 "It's difficult to swallow what's happened in the last week," Arsène Wenger admitted. Although Borussia Dortmund and Chelsea were not the first teams to highlight Arsenal's deficiencies, the quick succession of their triumphs at the Emirates Stadium have overshadowed the Gunners' auspicious start to the season and familiar questions are being asked again.
The Capital One Cup might be fifth on Wenger's list of priorities but it was his best chance of silverware for the first time in nine years. It will definitely extend to nine - at least - now there is a free weekend for League duty in the last weekend of February, something Chelsea's 9,000 supporters chortled about deliriously.
The exit was not as ignominious as the penalty shootout at Bradford nearly a year ago and Wenger was relatively relaxed despite another setback.
ARSENAL 0-2 CHELSEA: GUNNERS DUMPED OUT OF CAPITAL ONE CUP
"It was a very tight game and was decided by one of our mistakes," he explained. "There's a lot of positives from the game but giving the first goal away you give yourself a mountain to climb against a team who defends well and is good on the counter-attack."
Wenger was vexed by the similarities to the Dortmund defeat last week, when Jürgen Klopp's side capitalised on their hosts' openness to via a breakaway move. Crystal Palace might have punished them similarly at the weekend had Mikel Arteta not cynically upended Marouane Chamakh.
The loudest Arsenal fans hollered on Tuesday night was for the arrival of Olivier Giroud. Nicklas Bendtner was as isolated as he was feckless. When he eventually departed - immediately after Juan Mata ended the contest with a wonderful second - some Arsenal fans flicked V-signs in his direction and vented their spleen until they went the colour of the players' shirts.
"They cannot play all of the games and at some stage we have to rotate," Wenger said of Giroud's omission. How did he rate Bendtner's performance?
"I do not want to give an assessment of the players in the press conference," he responded.
However abject Bendtner played he was supported by an aimless and tentative front three shackled by the brute force of John Obi Mikel and Michael Essien. Arsenal had one shot on target and Wenger lamented their impotency.
Ever the optimist, Wenger put the loss into perspective with a fact which is effectively unimportant.
"Let's not jump too quickly to conclusions. If you take the points we've made since 1 January, we have taken more points than anyone else. It's difficult to swallow what's happened in the last week. In football it's always difficult to get definite conclusions, like after the first game against Aston Villa we were relegated."
Wenger was armed with excuses; Theo Walcott, Alex Oxlade-Chamberlain and Lukas Podolski are all injured. "That's three players who have a big impact offensively, if you put them in it's a completely different position in the team," Wenger stressed.
It's now no wins in nine against José Mourinho, who greeted the "voyeur" warmly pre and post-match. On Sunday he said there were "no problems" with Wenger. C'est vrai?
"I don't know what to answer to that," Wenger replied with a smile.