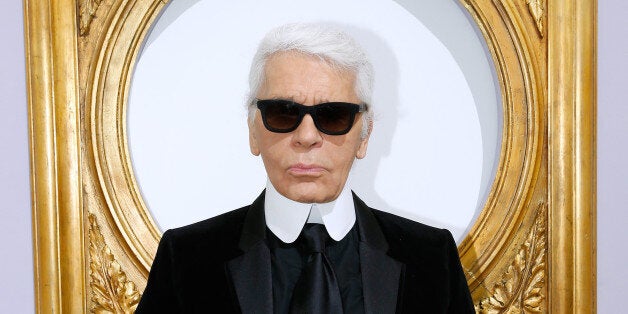 Karl Lagerfeld may be Chanel's head honcho, but as far as we're concerned, when it comes to fat-shaming, he's about as original as Ryanair's Michael O'Leary.
From his comments about Adele being fat to railing against 'fat mothers with their bag of chips', all we can detect is the whimper of a person who is very scared to revert back to their former overweight self.
Regardless of our pop psychology however, Karl yet again finds himself in hot water after saying on TV: "No one wants to see round women on the catwalk."
Normally there would be the usual outrage with the fashion industry shaking their heads and fondly saying: "Ah, that Karl, what a scamp", but this time round, an organisation called Belle, Ronde, Sexy et je m'assume (Beautiful, Round, Sexy and Okay With It) has decided to take things further.
HuffPost UK Lifestyle spoke to Rivkie Baum, co-founder of plus size boutique Slink and editor of Slink magazine which ran a plus size models competition with Models1, and she said that while Karl is "bonkers and obviously has got body image issues himself because he used to be big", that at least he is being honest.
The problem, she says is with the industry, not just one man. "I get that same impression from fashion editors, who mostly make a nod to plus size women once a year. If 50% of women are size 16 and over, then that's half of your readership you aren't targeting and you aren't caring about."
Suing Karl might be the way to make a statement, but it's not going to achieve much, she says.
"I come from a pattern cutting background, so I understand why there aren't more plus size models on the catwalk. For people who don't work in fashion – they don't realise those sample sizes the designer makes needs to be used by all magazines. Models aren't booked until a few days before a catwalk show and unlike regular models who are either a size six or an eight, plus size models aren't standardized.
"But the dialogue needs to be had. I'd like to see plus size fashion or fashion above a size 16 being featured by fashion magazines regularly – not just once a year. I find that really insulting - it shouldn't be a token nod. In America, brands we are stocking are featuring in top fashion magazines like Instyle and I'd love to see that here. They say 'the market isn't ready' but the truth is they don't want to think about it."
On Twitter, people had the following to say: