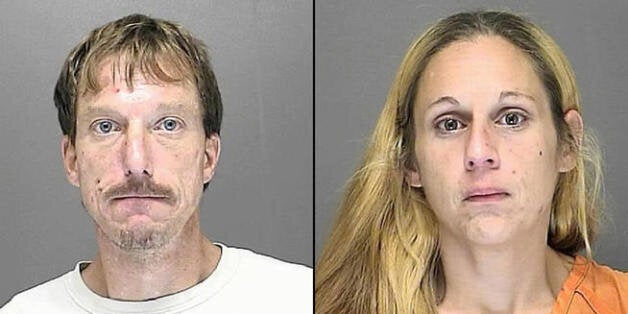 A couple have been arrested after police in Florida found them, and their family, squatting in the house of a dead woman and claiming her benefits, while her corpse decomposed upstairs, the Independent reports.
Todd La Duke, 38, and Nicole Scalise, 31, were arrested after social services ordered a check on Tiffany Kain in Holly Hill, Florida.
Wheelchair-bound Ms Kain, 33, had not been in contact with the Department of Children and Families since September.
Sheriffs forced entry into the property on after smelling a foul odour and found Ms Kain's body in advanced stages of decomposition in a bedroom.
Medical examiners estimated that Ms Kain, who suffered from spina bifida, had been dead for at least two weeks.
La Duke and Scalise were found in another room of the house with their four-year-old child.
Two other children, aged 6 and 11, were at school at the time.
The arrested couple allegedly admitted using the disability benefits of Ms Kain, who is believed to have died of natural causes.
Holly Hill Police Chief Mark Barker said it was "perhaps the worst case of child endangerment I've seen in my 30 years in law enforcement. Disgusting".
"We are fortunate that these children have been removed, are in a safe place today and that these individuals have been brought to justice," Mr Barker added.
Holly Hill police department described conditions inside the house as "deplorable" and said the house was littered with drug paraphernalia, dirt, animal feces and the carpets were urine soaked.
Chicago-Sun Times reveals that LaDuke and Scalise are charged with child neglect, unlawful disturbance of a body and drug possessionchild neglect, unlawful disturbance of a body and drug possession.