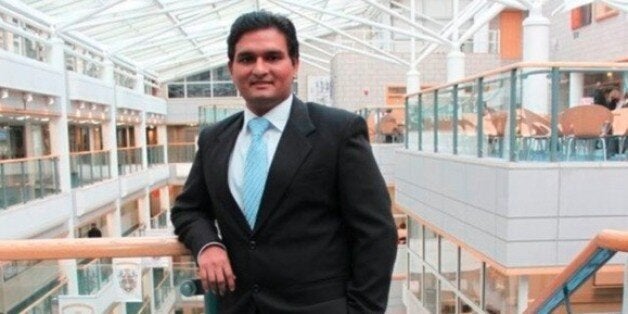 Two people have been remanded in custody after appearing in court charged with the murder of a pizza delivery driver.
Shamraze Khan, 25, of Southey Crescent, Sheffield, and a 17-year-old, who cannot be named for legal reasons, were both charged with the murder of Thavisha Lakindu Peiris overnight.
Mr Peiris, 25, had been delivering his last pizza before starting a new job when he was stabbed to death in the Southey area of Sheffield on Sunday night.
Khan and the youth appeared at Sheffield Magistrates' Court for a five-minute hearing today.
They were remanded in custody and told they will appear again at Sheffield Crown Court on November 15.
The two defendants stood in the glass-fronted dock for the brief hearing flanked by two security officers.
Both wearing navy-blue T-shirts, they spoke only to confirm their names and give their dates of birth and addresses.
There were no applications for bail.
Mr Peiris was on his last shift before starting his dream job when he died.
He was found dead in a silver Toyota Yaris car in Southey Crescent in the city at about 10.30pm by fellow Domino's workers who had gone looking for him after he failed to deliver his order.
His family described him as the "most caring and loving son a parent could have".
Earlier this week, his father Sarath Mahinda Peiris and mother Sudarma Narangoda said: "We sent our son to the UK to study so he can have a better life. Now we are left with only a broken heart."
They said: "Thavisha was one of the most caring and loving sons a parent could have. He was full of life and always had a smile on his face. Anyone who met him immediately liked him."
Mr Peiris came to the UK to finish an IT degree and graduated from Sheffield Hallam University in 2011.
He had just secured a job as an IT consultant in the city.
His colleagues and police said he had been feeling unwell during his last shift and was going to go home early but agreed to deliver one last order.
Domino's Pizza has said it is funding the cost of flying Mr Peiris's family to the UK in the coming days.
Tonight, around 60 of Mr Peiris's friends and members of the Sheffield Sri Lankan community gathered for a vigil at his home in the Fir Vale area of the city.
The terraced house was packed for the Buddhist ceremony.
His friends said the hour-long vigil involved religious elements led by Buddhist leaders as well as food and tributes.
Popular in the Community