Apple's iPad Air is out now starting at £399 (16GB, WIFI only) from Apple.com.
43% thinner bezel, 20% thinner overall
Much lighter - just 1 pound
A7 processor (64 bit) and the M7 motion coprocessor
Twice the performance of the previous generation (and 8X the original iPad)
Faster WiFI with 'MIMO' antennas
5MP rear-facing camera
Dual microphones for better audio capture
10 hour battery life
"iPad Air weighs less than half a kilo, and it's 20 per cent thinner. But even though it's extremely light, it has a refined aluminium unibody enclosure that feels solid and durable in your hand."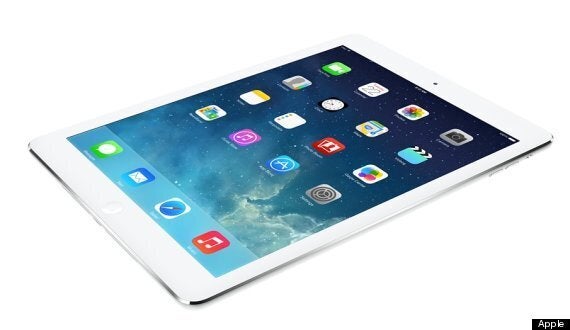 Writing iPad reviews is becoming increasingly absurd. Reading them, likewise. Let's face it - you already know that this is a fantastic device. It's the best iPad ever, one of the most objectively impressive too, and one of the most overwhelmingly convincing upgrades Apple has released for a long time.
For unlike in mobile phones, where Apple's still-excellent iPhone is now fighting tooth-and-nail against the top-end Android devices for marketshare, the iPad still has little genuine competition at the high-end.
Google, Amazon, Samsung and now even Argos and Tesco are making healthy gains in their own scrap for the cheaper, seven-inch-ish tablet space. On specs alone, many of these devices are able to match and even exceed the iPad - the Nexus 7's market-leading screen is an obvious example. But if it's apps, design, usability and overall quality, Apple was still leading the pack with the iPad 4.
The iPad Air is just icing on their victory cake.
Before we run away into the details of just what makes the new iPad such a success, let's throw out some caveats. First, there is nothing fundamentally different about the way this iPad works, or what tasks it lets you complete. In case you haven't already experienced iOS 7, there's no on-screen multitasking, 'swipe'-style keyboards or widgets. The device has no TouchID fingerprint sensor, haptic feedback or wireless charging. This is an iPad refined, not an iPad reborn.
Except, that is, unless you pick one up. The iPad Air is stunningly lighter and thinner than the iPad 4. You can now hold it in one hand just like an iPad Mini, and throw it in your bag without worrying about shoulder ache. The bezels are shrunk into proportion, the corners are still gently curved but crisp and clean. It feels like a superior physical object in every way.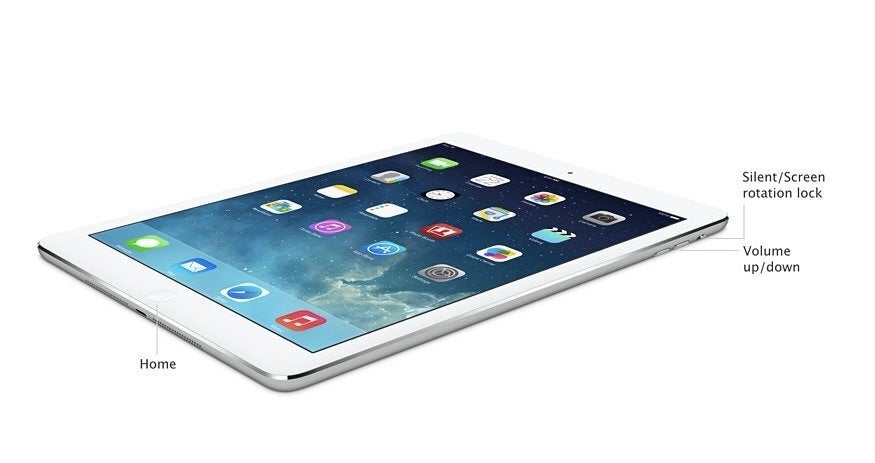 Apple iPads, iPad Minis And More...
The Air performs brilliantly, too. The new A7 chip is said to offer up to twice the performance of the previous generation - though in truth everything performs so smoothly it's sort of hard to notice. That said, it's also clear in games like Infinity Blade III that this machine is a step up. With a decent third-party controller, which are on the way, it would make for a serious gaming machine.
There are other component improvements. The front-facing camera is better, the M7 motion co-processor is built into the machine which is handy for everything from battery life to games, and the batteries offer the same 10 hour life while being 25% smaller. The 4G compatibility is sorted, and the WiFi is now capable of speeds up to 300mb/s.
Then there's the software. With every new iPad you now get the full suite of iLife (Garageband, iPhoto, iMovie) and iWork (Pages, Keynote, Numbers) apps, and access to their online equivalents. None of these are exactly market-leading productivity tools, but they're all easy to use, beautiful and fast. Taken together they add significant value for money to a device already blessed with thousands of stunning apps in its App Store, which needless to say is staggeringly far ahead of the competition when it comes to tablets.
All this you probably know. The surprise is that the cumulative result of these upgrades is a subtly, but significantly different machine. A new device - which is more mobile, more pleasing, more enjoyable and more useful that the iPad you already own.
The iPad Air is a tablet you'll want to take everywhere, that you'll want to use more at home for reading and gaming, and take with you to work as a note-taking device for meetings. In short, everything you thought you'd use your iPad for, but probably never bothered to do. It's just a delight to use, and at a price that while higher than its theoretical competition, is still great value.
That this was achieved through making a large number of superficially small improvements to an already well-honed template is a testament to the company Apple has become. Yes, it would be nice to see it take a few more risks - to push their own assumptions of what an iPad is, and does. But it's also worth remembering that it's taken this long for the original vision to be realised. The result is a masterpiece - not of imagination, perhaps, but of almost everything else.