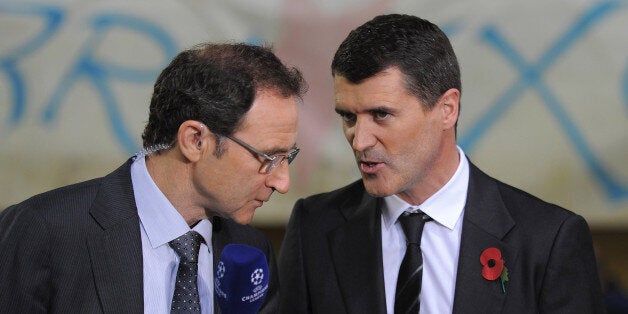 Martin O'Neill and Roy Keane have been appointed as the Republic of Ireland's new management team.
The Football Association of Ireland confirmed the pair were in "advanced talks" on Tuesday morning and an official announcement is expected soon.
The duo are currently on punditry duty in Spain for Manchester United's Champions League group stage match at Real Sociedad. O'Neill was asked by presenter Adrian Chiles why he chose Keane as his assistant.
"I've asked myself that many a time in the last 48 hours," O'Neill replied. "I think he'll be great for me but more importantly, I think he'll be great for the Republic of Ireland."
Keane added: "I'm honoured Martin's asked me to help him with the team, I'm very excited - I mightn't look it, but I am. And I'm looking forward to working with the players to try and get to the Euros.
O'Neill also joked: "I think I'm the bad cop and he think he's the bad, bad cop! We're both excited by it, it looks as if we've got something to go with."
The Republic have been without a permanent manager since the September departure of Giovanni Trapattoni. O'Neill quickly emerged as the leading contender to replace the Italian, and over the weekend it emerged former captain Keane - who infamously walked out of the Irish camp during the 2002 World Cup - was wanted by O'Neill as his assistant.
Ex-Celtic and Aston Villa manager O'Neill was identified as the FAI's primary choice within days of Trapattoni's departure following defeats to Sweden and Austria in early September.
In the meantime, former Republic international Ray Houghton and high performance director Ruud Dokter were charged with the task of assessing alternative candidates.
Ulsterman O'Neill, who won 64 caps with Northern Ireland, has been out of work since Sunderland sacked him in March.
While O'Neill's appointment is expected, the return of Keane to the international setup should be fascinating.
A member of Ireland's 1994 World Cup squad, the ex-Manchester United skipper fell out spectacularly with then-manager Mick McCarthy at the 2002 finals in Saipan.
Frustrated at supposedly poor planning, Keane launched into an extraordinary tirade at his one-time teammate.
"Mick, you're a liar... you're a f*****g w****r," he told McCarthy. "I didn't rate you as a player, I don't rate you as a manager, and I don't rate you as a person. You're a f*****g w****r and you can stick your World Cup up your a**e. The only reason I have any dealings with you is that somehow you are the manager of my country! You can stick it up your b******s."
Time will tell whether time has healed the wounds between Keane and the FAI.