"It's been a long time since Sherlock Holmes jumped off that roof," says 'Sherlock' writer Steven Moffat. Too long, if you ask us.
So it's with great excitement that we bring you the first official picture from 'Sherlock' series three, featuring both Sherlock (Benedict Cumberbatch) - alive and kicking - and John Watson (Martin Freeman).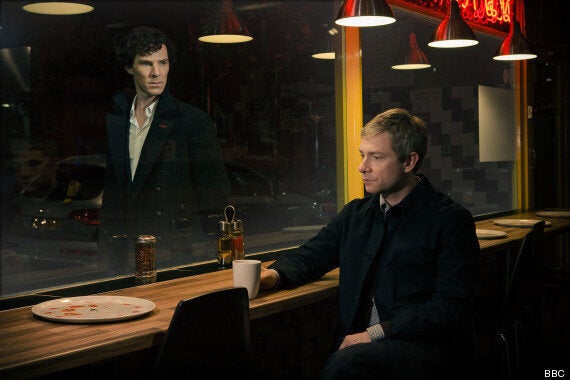 "It's time to reveal the truth about what happened between him and the pavement," Moffat explains.
Executive producer, writer and co-creator Gatiss adds: "Sherlock and John Watson are back at last! And they're just where we want them - on the streets of London having mad, thrilling adventures."
The hit BBC One detective drama will return in the coming months with three episodes - 'The Empty Hearse', 'The Sign of Three' and 'His Last Vow'.
'The Killing' Star Lars Mikkelsen has been cast as a new nemesis for Sherlock, now that Moriarty is no more. Mikkelsen will play adversary Charles Augustus Magnussen – a character based at least loosely on Sir Arthur Conan Doyle's "king of the blackmailers" Charles Augustus Milverton.
Freeman's off-screen partner Amanda Abbington has also joined the cast, as Mary Morstan - a love interest for John Watson.