When deciding whether or not to have a tattoo, it's always a struggle to find that one design that will accompany you through your older years and still feel like it was the right choice even when you're pushing 85.
Some opt for something artistically unidentifiable, while others make the bold choice of getting their loved ones' names embedded in their skin.
But one man has found a solution to the tattoo conundrum that we've never seen before - opting to have blank comic strip panels inked into his arm.
Each day he fills in the blanks with a scene of his choice, meaning his tattoo will never get old.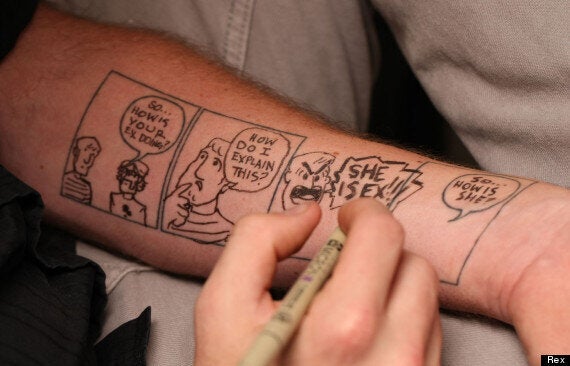 A comic book artist by trade -and therefore well placed to design his own tattoo each day - Patrick Yurick wanted to combine his love of comics with an unfulfilled desire to get a tattoo.
The 30-year-old says that while he had wanted a tattoo for more than a decade, he couldn't commit to a design. It was only after seeing an offer on Groupon that he decided to take the plunge.
"I am too picky with my art and being married to one single design on my body was always a tough decision," he explains.
The comic is on his left forearm and he draws the designs himself. Although he does know how to draw with both hands, he claims his left is not as amazing as his right.
A simple design takes Patrick about 10-15 minutes and he considers it as an exercise that helps him "loosen his creative juices", whereas his other projects (Hipster Panic, American BOOOM!) required up to 15 hours to finish.
"My ultimate dream with the whole project is to generate a couple hundred strips and take the 50 best and make them into a high quality picture book."
Patrick's daily comic strips can be viewed here.