Barbados-born barbecue connoisseur David Carter doesn't do anything by halves.
Flame-grilling his way through 400kgs of ribs and 25L of BBQ sauce on a regular basis, he is the brains behind street food sensation Smokestak - bringing meat to the masses in a big way.
His recipe for success? Simplicity. His team focus their energies on creating great food that people will remember and charm them with their down-to-earth attitude and enthusiasm for all things BBQ-glazed.
That and a 4.5 Tonne custom-built Texan BBQ smoker, of course.
We pried the tongs out of his hands for a moment to find out more.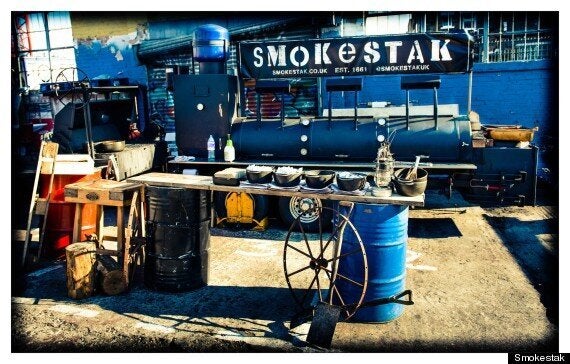 How did you get started as a street food trader?
I've been embedded in the restaurant trade for years, I've always buzzed off the adrenalin and rush of a busy service – people chatting, waiters running, chefs hustling – it's incredibly exhilarating.
Witnessing this in a street setting with the same energy and focus on that one product caught me straight away.
And the best thing is that these street food traders hadn't necessarily come from prosperous backgrounds, or had millions of pounds of financial investment - which is often needed to get in the big league restaurant game.
They were ordinary people doing extraordinary things, keeping the focus on product and product alone. Simplicity in its finest form.
Describe an average working day
At 5am alarm goes off and I jump in the truck straight to Smithfield market, where we grab the bulk of our meat stock.
We arrive on site by 7am, begin to set-up, choke the bbq smoker - this takes at least a good hour to get to the right temperature given the size and how much metal it takes to warm through.
Then we start prepping the beef to whack this on the heat by 9/10am at the latest (it takes a solid 8-10 hours to cook some of the Flintstone ribs).
Once the beef is cooking, we start prepping the pork ribs, which are staggered on the smoker.
All the above relies on the smoker already being on site and the bulk of set-up is done the day before, with the sauces and rubs all ready to go beforehand. It's not that there is that many individual jobs to do, it is the pure volume of stock and how long the smoking process takes which can't be rushed.
On a good weekend, we will sell 400kgs of ribs comfortably. We always try and be ready by 4pm which never happens!
Then 5pm, 12 hours after getting out of bed, is show time and we start trading.
What is your inspiration?
The quest for The Perfect Product. Then of course it's a mix of: Energy. Buzz. Adrenalin. Vibe.
What has been your favourite location to trade in and why?
Street Feast, the street food night market at Dalston Yard, were the ones to inspire us to take the leap of faith and actually get involved in the street food trade.
The idea was conceptualised years ago but we always wanted the right venue to showcase our product - a venue with energy and a bit of umpf. We're not interested in Sunday school fairs and Auntie Susie's private birthday party, we want to showcase who we are and what we do in a wicked venue with a cool crowd.
Street Feast have been pioneers in bringing vision together for us. To date, we have only ever traded at Street Feast events. First it was Dalston Yard now back at Hawker House which is bound to be epic!
What sets you apart from other street food traders?
I've got a great deal of respect for a lot of street food traders out there. Many of them stand toe-to-toe with some great restaurants in terms of quality of product. We have tried to keep our focus on exactly this.
The product is king; the be all and end all. Of course, coming into the game, we wanted to make a bit of an entrance with a massive 4.5 tonne BBQ Smoker from Texas - but this merely drew the attention and got people interested. What we serve is ultimately what will win people over, get them coming back and talking about the quality of our product. If this fails, we fail.
What is your signature dish?
Our focus is purely on ribs – pork and beef – all different cuts. This is where we keep the focus.
If you could give one tip to new street food start-ups, what would it be?
Keep your product and offering as simple as possible. Resources and logistics are limited, especially with no real kitchen, storage etc. It's much better to do one product amazingly well, than 10 half-assed attempts at something you can hardly call a product.
Smokestak will be a Hawker House this weekend, 8 & 9 November, and every Friday & Saturday until 14 December 2013.
HAWKER HOUSE | 38-50 Pritchard's Road | London | E2 9AP
Entry free before 8pm, £3 on the door after 8pm (includes free Hot Shot)