But for Eliza Rebeiro, the founder of Lives Not Knives - an organisation working across communities with at-risk young people - knife crime was and is part of everyday life.
But the riots served to refocus the lens and issues that had previously been swept under the carpet - or at least pushed to the side - took centre stage.
At the time Eliza said that the riots marked the first time Croydon's youth worked together instead of getting embroiled with in-fighting - a controversial comment that she stands by.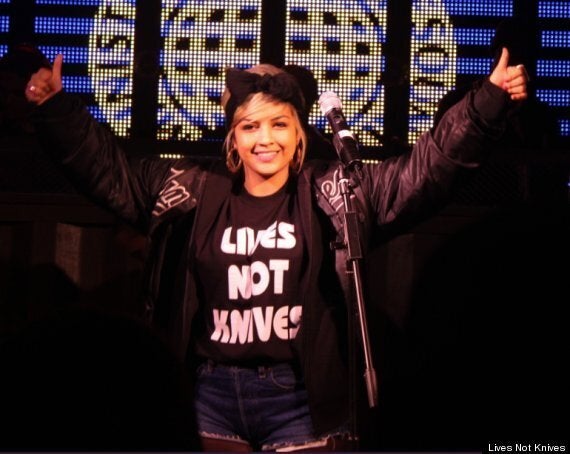 Kicked out of her all-girls catholic school at just 13 and placed in a PRU (Pupil Referral Unit) or Short Stay School, it wasn't long before Eliza found herself heavily involved in knife crime.
But, thankfully, rather than getting into trouble, her motivations were to do more good than harm.
She made the brave decision to head for the eye of the storm - after all, knife culture is a cause close to Eliza's heart - "I lost a good friend to knife crime," she reveals. "And I knew others who had been stabbed."
Her organisation Lives Not Knives, was thus born in 2007 when Eliza was 14. It sends volunteers into schools and colleges to work with young people who are involved, or at-risk of becoming involved with, gangs and knife crime.
Each member of her team - all aged between 18-24 (apart from her mum and grandma who provide unflinching support in the office) - has been involved in or heavily affected by knife crime.
"We start sessions with our own testimonials and then move on to Q&As, where people are free to ask us whatever questions they wish," she tells HuffPost UK Lifestyle. "Putting our own stories out there really sets us apart from other organisations."
Relating to the groups they work with is key to the organisation's appeal and success, says Eliza.
"Our age certainly helps us tune in to groups, as does the way we dress - particularly our 'sick' trainers," she laughs.
Her style was also the driving force behind Lives Not Knives. She first had the slogan printed on a T-shirt and, after being stopped numerous times in Croydon by people asking where they could get one for themselves, she decided to make more - with financial investment from her mum.
With the money earned from her T-shirt business, she threw a party in her local area "to put a positive message out about young people" and counter the dominant scare-mongering media image of an 'ASBO generation'. And the rest is history.
As far as expansion goes, Eliza has big plans for Lives Not Knives.
"The organisation was built on preventative measures - offering everything from workshops to one-on-one mentoring, working with children as young as nine and as old as 24 - but now we want to get people into youth work and jobs."
The organisation is moving to a unit in Centrale Shopping Centre Croydon, where they will offer resources to help young people who aren't in education, employment or training.
Eliza is keen to help young entrepreneurs - "If there aren't jobs out there for people, let's create them" - and is partnering with Lloyds Bank, who will provide interview skills and business advice to young people.
Eliza is nominated for the Young Star category in The Women of the Future Awards.
The ceremony will take place on Wednesday 13 November and is hosted by Real Business in association with Shell.