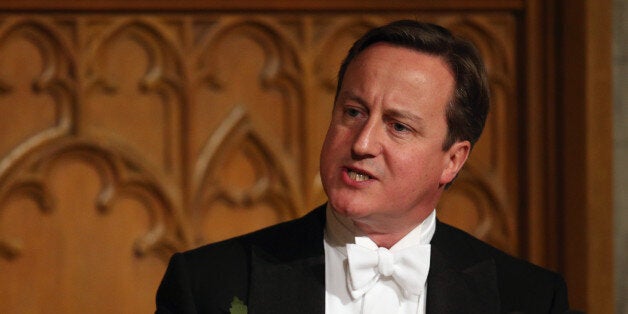 The five things you need to know on Tuesday 12 November 2013...
1) DAVE'S AUSTERITY ADMISSION
Remember how 'compassionate Conservative' Dave used to say he "didn't come into politics to make cuts"? That austerity was an economic necessity, not a political choice? Well, last night, 'small state' Dave - the real Dave? - made an appearance at the Lord Mayor's banquet. The Guardian reports:
"The government is to forge a 'leaner, more efficient state' on a permanent basis, David Cameron has said, as he signalled he had no intention of resuming spending once the structural deficit has been eliminated, a clear change to claims made after the last general election .
"In a change of tack from saying in 2010 that he was imposing cuts out of necessity, rather than from 'some ideological zeal', the prime minister told the Lord Mayor's banquet that the government has shown in the last three years that better services can be delivered with lower spending."
Really? The Guardian, on its front page today, also reveals how "patients are being put at risk because NHS hospitals are functioning with 20,000 fewer nurses than they need", according to a new report from the Royal College of Nursing.
Nonetheless, the prime minister declared: "We are sticking to the task. But that doesn't just mean making difficult decisions on public spending. It also means something more profound. It means building a leaner, more efficient state. We need to do more with less. Not just now, but permanently."
Permanently. His word. Not mine.
First, George Osborne. Now, David Cameron. The PM told his audience last night that he was heading east...
"David Cameron is to lead a delegation of ministers and business figures to China next month, he has announced.
"The move represents a warming of relations after a dispute over the PM's decision to meet the Dalai Lama in May.
"And it comes a month after the chancellor, George Osborne, fronted a business delegation to China.
"Mr Osborne's Autumn Statement, which sets out the UK government's tax and spending proposals, has been put back 24 hours to accommodate the trip.
"It will now take place on 5 December, the Treasury said."
3) ARE ENERGY FIRMS THE NEW BANKS?
"Four million more households face higher energy bills this winter as another of the Big Six prepares to raise its prices.
"The Government warned the energy companies that they risked being seen in the same light as 'greedy' bankers, with E.ON about to become the fifth energy firm to increase charges by more than double the rate of inflation.
"The German–owned energy supplier will raise gas and electricity rates by 6.6 per cent later this month, with the increase to take effect in early January. Dual–fuel bills will rise by nearly £90 a year to £1,425 for customers not on fixed price tariffs. Ed Davey, the Energy Secretary, will today criticise the industry for treating customers like 'cash cows' and will compare the energy firms' reputations to that of Fred Goodwin, the disgraced former head of Royal Bank of Scotland."
"The chairman of Royal Bank of Scotland described on Monday how he felt like he was having an 'out of body experience' when a banker protested to him that his £4m pay deal was unfair.
"In a rare insight into the pressure top employees try to put on boards over their pay levels, Sir Philip Hampton said he had been contacted "quite a lot" by bankers wanting bigger pay deals via email and in face to face meetings."
You can't make this stuff up...
BECAUSE YOU'VE READ THIS FAR...
Watch this video of Sacha Baron Cohen accepting an award in Los Angeles. You must watch the video till the end...
4) IS CITIZENSHIP REALLY A 'PRIVILEGE, NOT A RIGHT'?
Home Secretary Theresa May continues to disregard basic human rights as she 'cracks down' on terror suspects in a bid to look tough and decisive - from the FT front page:
"Theresa May is seeking to change the law so that terror suspects can be deprived of their British citizenship and made "stateless" in a bid to make it easier to deport people deemed a security risk.
"The Home Secretary is already able to strip passports from those with dual nationality and has repeatedly said British citizenship is a "privilege, not a right". Since coming to office, she has exercised this power on at least 16 individuals alleged to have links to terrorist groups.
"But the Financial Times understands she has asked officials to find a way of overturning international human rights conventions that prevent individuals with only one citizenship being made stateless. The change - which could be tabled as an amendment to the forthcoming immigration bill - comes as ministers impose tougher restrictions on terror suspects after Mohammed Ahmed Mohamed escaped from a London mosque earlier this month dressed in a burka."
'Tis the season for MPs' apologies - first Simon Hughes, then Nadhim Zahawi, now Nadine Dorries.
"Tory MP Nadine Dorries has apologised to the Commons for failing to declare her fee for appearing on ITV's I'm a Celebrity … Get Me Out of Here! programme last year, after being censured by the parliamentary standards watchdog.
"Dorries said she was "fully and unreservedly" sorry after the Commons standards committee said she had breached the code of conduct by her attitude to the inquiry and refusal to say how much she was being paid.
"The standards committee, a cross-party group of MPs, found Dorries should never have signed such a confidentiality agreement. It also agreed with [parliamentary standards commissioner Kathryn] Hudson that Dorries had breached the code through her 'attitude to the commissioner's inquiries'."
An MP saying sorry for having a bad attitude? Well that's a first...
From the Sun/YouGov poll:
That would give Labour a majority of 86.
From the Guardian/ICM poll:
That would give Labour a majority of 86.
Rachel Sylvester, writing in the Times, says: "David Cameron ignores John Major's message at his peril."
Steve Richards, writing in the Independent, says: "The Government's Help to Buy scheme is sub-prime mortgages all over again."
George Monbiot, writing in the Guardian, says: "Lobbying is the least of it: corporate interests have captured the entire democratic process."
Got something you want to share? Please send any stories/tips/quotes/pix/plugs/gossip to Mehdi Hasan (mehdi.hasan@huffingtonpost.com) or Ned Simons (ned.simons@huffingtonpost.com). You can also follow us on Twitter: @mehdirhasan, @nedsimons and @huffpostukpol