A new type of coffee machine promises not only to revolutionise the way you make coffee at home but potentially the entire industry.
Bonaverde Coffee Changers have designed a machine that can grind and brew just like a regular maker but also roast beans.
As well as giving connoisseurs the ultimate control over their beverage it also puts growers in direct contact with farmers as it does away with the need for middlemen and suppliers.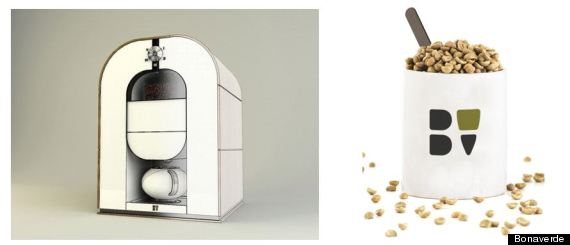 A Bonaverde network of farmers can all be contacted via Skype to discuss their wares which are then delivered individual cloth bags, reducing waste and environmental impact.
The machines are currently being funded on Kickstarter and have already surpassed their target of $135,000 (£84,700) with 25 days still to go.
The company state:
Help us show the world that it is time to change the way coffee is perceived, traded and enjoyed. With the world's first roast-grind-brew coffee machine we can disrupt the value chain, empower farmers and bring you the fairest and freshest coffee experience right into your own home.
Sounds good to us..
LIKE US ON FACEBOOK | FOLLOW US ON TWITTER