Lily Allen may be all sweetness and light as she sings 'Somewhere Only We Know' on the John Lewis Christmas advert, but she's chosen a rather different approach for official comeback single, 'Hard Out Here'.
The feisty track and its accompanying video takes aim at sexism in the music industry, as Lily parodies modern pop culture.
As she sings lyrics such as 'Forget your balls and grow a pair of tits, it's hard out here for a b**ch', she sends a bold message to the likes of Miley Cyrus and Robin Thicke.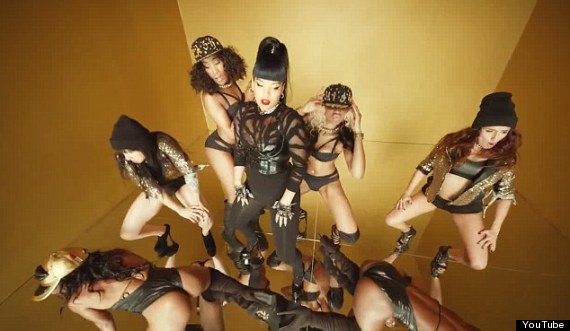 Lily Allen in her new video for 'Hard Out There'
Lily can be seen twerking with a troupe of scantily clad dancers a la Miley, before dancing in front of the words 'Lily Allen has a baggy p**sy', mocking Robin's 'Blurred Lines' video, where he has balloons spelling 'Robin Thicke has a big d**k'.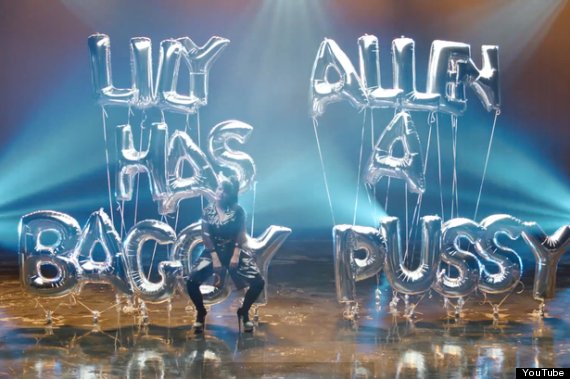 Lily's bold message to Robin Thicke
The song serves as Lily's first release since 2010's 'Who'd Have Known', after which she announced her retirement from music.
During her hiatus, she became a mother twice, giving birth to daughters Ethel Mary and Marnie Rose, with husband Sam Cooper.
She even references her children at the start of the video, where she has liposuction ironically claiming she let herself go.
It's been a while Lily, but it's great to have you back.
WATCH the video in full above.
LIKE US ON FACEBOOK | FOLLOW US ON TWITTER