What could be the world's most rarest camera is to be sold at auction - and could fetch a whopping £1.7 million.
The Leica Luxus II is thought to be the only surviving of four original cameras and is gold-plated with a lizard-skin casing.
It has an estimate price of £800,000 but is expected to easily double that.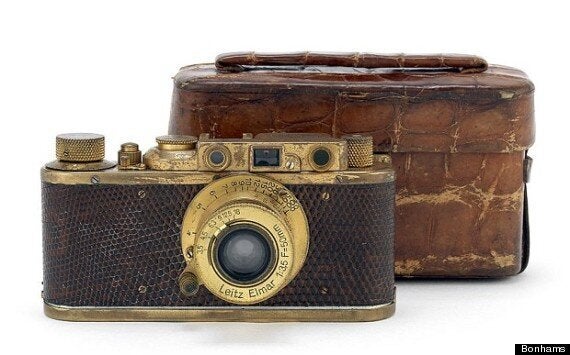 Its late owner had it in his possession since the end of World War II and made an appearance on the Antiques Roadshow in 2001.
Presenter, Marc Allum, told the Telegraph: "Leicas are the best cameras, the 35mm film was developed by Leica.
"I found it on the roadshow 12 years ago and it's been languishing, ready to resurface and it's taken a long time.

"It was a strange experience at the time. It was put in front of me and I looked at it in complete disbelief. I never expected to see a camera like that.

"At the time it wasn't worth anywhere near as much as it is now. It's just that the market has moved so quickly."
The camera will be up for auction at Bonhams in Hong Kong on 22 November.
A Leica 0 series sold for almost £2 million last year.
Bonhams' camera specialist, Jon Baddely, said: "Leica is a legendary name among cameras and has always had a reputation for cutting edge technology.
"It looked modern and its appeal was based very much on its portability and the fact that such a compact camera could produce negatives that could be enlarged."
Leica, a German optics company, started making cameras in 1913 and have a long and prestigious history.
Popular in the Community