The good news: 'Borgen's back, on our screens from tomorrow night, kicking off, in our best Nordic Noir on BBC4 traditions, with a cracking double bill.
The bad news: it's most definitely the third and final series of the hit drama, that has somehow managed to make coalition politics the coolest Danish export since Helena Christensen and Lurpak butter.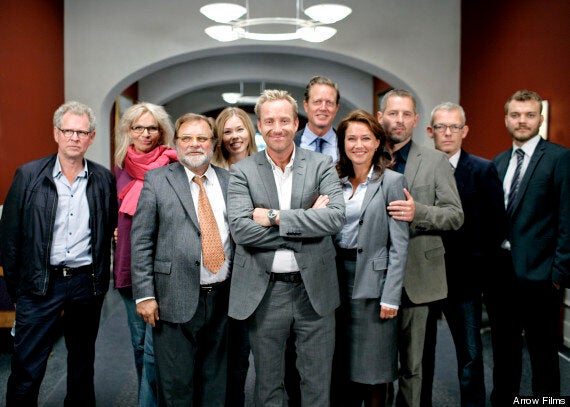 'Borgen' creator Adam Price (centre) with his talented cast
This week, HuffPostUK spoke to the series creator Adam Price, who, in his 'spare' time, is one of his country's most celebrated TV cooks to boot. Can you imagine Gordon Ramsay penning 'The Thick of It' (apart from the Tucker bit, perhaps)? The mind boggles! Anyway, here's what Hr. Price has to say about his series and its stars...
Your leading lady Sidse Babett Knudsen is celebrated in Denmark as a comedic actress - how did you recognise she'd be so effective in the role of PM Birgitte Nyborg?
She auditioned for the part, along with quite a number of the very best Danish actresses. She had something extremely emotional in her performance. There was fragility underneath her professional surface, and we really wanted that mix.
The great arc of this series is the constant clash between our professional lives and personal life, the consequences of having a political life on the personal, and she had that extremely emotional fragility underneath.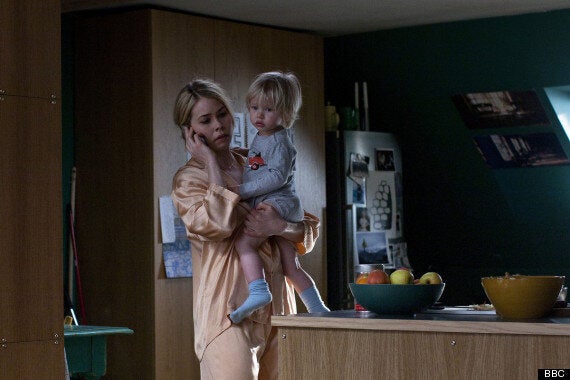 Borgen's Katrine struggles to balance work and family life
Female characters dominate and enrich this show - what gives you the confidence to write about women, from a female point of view?
Denmark enjoys a lot of equality between the sexes. Perhaps we are a bit further down the road, like most Scandinavian countries.
What is very important for 'The Killing' and 'Borgen' is that, after one episode, we don't want you to pay attention to the fact that they're women. They're just heroes, characters fighting for what they're fighting for.
'Borgen' is doing well in France as well, where perhaps equality is not as far ahead as in Denmark, and I can sense that quite a number of audiences in different countries believe this is a big deal, but that's mostly to do with attitudes in their own countries.
But I know women, I like them... The first two series of 'Borgen' all the writers were men, so you could call it a feminist project. Two female writers have now joined the team, but I would like to think you can't see the join.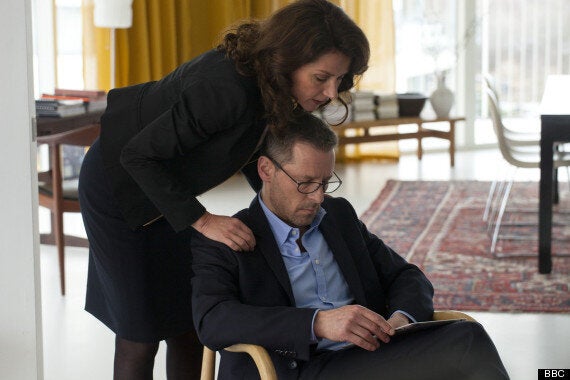 Birgitte is more relaxed about the deal's she struck between work and home
They're not domestic goddesses, your leading ladies...
We were trying to comment on the superwoman syndrome in a subtle way. We're saying you don't have to be perfect, you should be yourselves.
Birgitte and Katrine are at different stages. Nirborg has come to terms with this, while Katrine is a younger woman, still struggling. She has to come to terms with not being perfect, and reconcile her views on journalism, too.
We don't see as much of spin doctor Kasper in Series 3...
The actor Pilou Asbaek had to make some feature films at the same time. I really wanted him in the series, so I chose to down scale the part rather than lose him altogether. I would have kept him central to the plot, but it wasn't possible.
I spoke to Pilou Asbaek a few months ago, and he told me Kasper's story was complete, that he understood when the writers chose to downscale him...
President Clinton used to watch 'The West Wing' on Air Force One. Have you had reactions from politicians about what you got right, and what you got wrong?
Politicians have been quite happy with the series. Most of them say it captures the tone of politics very well. Obviously, it is pure fiction. The greatest issue of criticism is usually the time frame. Everything happens so quickly because we want to wrap it up in one episode.
They say, 'Why don't you show us politics like it really is? The tedious boring meetings we go to all the time? Well, because they're tedious! Drama is artificial - we deal with the peak moments of a lifetime.
What was the last day of filming like?
It was an emotional day for everybody - it's been a journey for all of us. I tried to say that perhaps this series for quite a number for us came at the right time in our lives, we were ready to do the most personal project, most painful for some of us, and some of the themes go beyond our wildest dreams. We've done reasonably good writing, but the actors took it to a level beyond anything we could have hoped for.
Any successful European project these days inevitably raises rumours of a US remake - what do you know about that?
I heard that HBO is seriously considering doing 'Borgen' for the US. I would only be a consultant, 'Borgen' should have its own show runner, and he or she should make it its own baby, with me as a possible midwife.
Any ideas of a film of 'Borgen'?
We have no plans whatsoever, but you never know. We haven't even discussed it.
I've been sent the preview series of Borgen - ten episodes - but I'm trying to be really disciplined and just watch a tiny bit at a time.
Like a chocolate bar with a ten pieces.
I ate four pieces on Sunday afternoon...
The third and final series of Borgen airs on BBC Four, Saturdays at 9pm. The box set is released on 16 December by Arrow Films.