Activists have held a "housewarming" party, as they occupied a luxurious flat in a housing development in east London, in protest at outrageous rents in the capital.
Drinking champagne and eating Waitrose canapes, the 15 campaigners from the group "Let Down", claim they are all private renters hit by sky-high rents, rising around 7% a year.
The occupied flat was one built by property developers Genesis, which receives funding through a government subsidy. Rents at the 'Stratford Halo' development start from £1,700pcm for a two bedroom flat.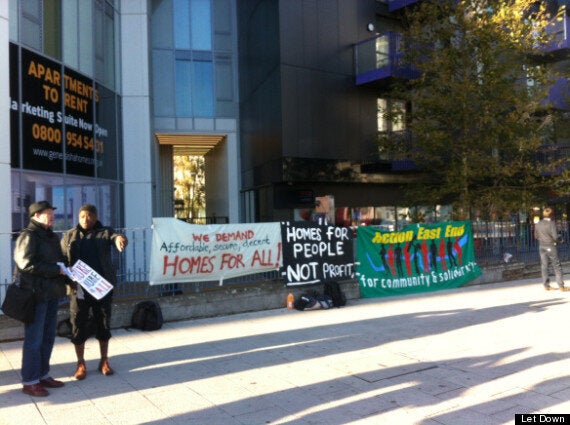 Housewarming party at the Stratford Halo..
Based on figures published by Shelter, these rents would only be affordable to families with an income of £76,000 or more.
"Private renting is expensive and gives people no security – the last thing we need is more of it," said Emma Bradshaw, one of the activists from the Let Down campaign. "Rather than supporting developers to build expensive private rented housing that is only affordable to the very wealthiest, the government should bring in measures to keep rents under control and invest in good quality genuinely affordable social housing that gives ordinary people the security they need."
A spokesperson for Genesis Housing Association told HuffPost UK: "The comments made by the group are inaccurate; it's a shame they didn't get in touch with us beforehand, so we could correct their misconceptions.
"At any one time there are around 100,000 people living in a Genesis home, the overwhelming majority of which are social housing tenants – so we probably empathise with their aims more than most organisations.
"The current chronic lack of housing is something that affects everyone, not just people looking for social or affordable homes. At Stratford Halo, there's a combination of all types of housing to cater for a wide range of needs. This includes homes available for social rent and shared ownership; homes available for rent on the private market and housing for people with support and care needs.
"Schemes like this - where we build more much needed social and affordable housing and raise revenue from the homes rented on a private basis - enable us to invest money into building even more housing. The same is true for any surplus we make.
She called the protest "small and relatively peaceful and when the group was asked to leave the premises, they did so quietly."
Stratford Halo was not built under the Build to Rent scheme, the spokeswoman added.
The £1bn Built to Rent fund provides subsidised financing to private developers to build privately rented homes, let at market rents.
"Let Down" say a Freedom of Information request to the Greater London Authority, which is assessing the bids for Build to Rent funding in London, reveals that the following three Genesis developments have been shortlisted to received funding through the Build to Rent fund.
New Hendon Village, Colindale (zone 4), London Borough of Barnet
Madeley Road, North Ealing (zone 3), London Borough of Ealing
Springboard House, Upton Park (zone 3), London Borough of Newham
Private rents in London are rising up to three times faster than those in the north and the Midlands, according to ,the Office for National Statistics.
Popular in the Community