The setting may be the Stade de France rather than the Parc des Princes, and the opponents are Ukraine rather than Bulgaria, but it is feasible France coach Didier Deschamps could experience a haunting bout of déjà vu on Tuesday night.
Deschamps was one of 11 Frenchmen shellshocked by Emil Kostadinov's winner 20 years and two days ago. David Ginola's fatal decision to send in an overhit cross in the 90th minute commenced one of the great breakaway goals in international football, as Kostadinov's smashed shot beat Bernard Lama to give Bulgaria a 2-1 win in the final qualifying game.
It was the goal which prevented Les Bleus from competing at the 1994 World Cup in the United States, the last major tournament they failed to qualify for. It was the goal which led to an attempted lawsuit.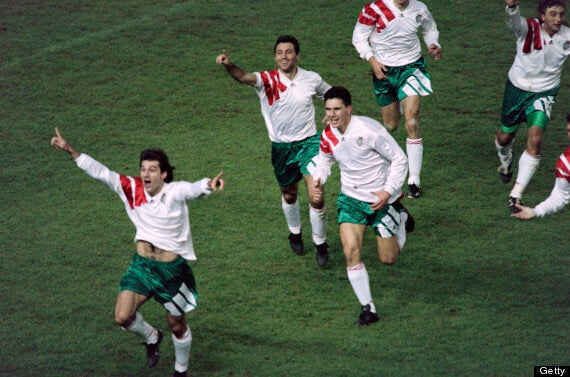 Emil Kostadinov celebrates his last-gasp winner at the Parc des Princes
Last year, a French court dismissed Ginola's bid to sue former France coach Gérard Houllier for slander and defamation. Houllier blamed Ginola for misplacing a cross that allowed Bulgaria to launch a decisive counterattack. He wasn't the only one.
Back in the present, France were abysmal in Kiev on Friday and trail Ukraine 0-2 ahead of their second leg in Paris tonight. For all the talent at their disposal, their possible absence from the 32 who feature in Brazil next year would hardly be a surprise.
Knocked out at the group stage of the 2002 and 2010 World Cups, as well as the 2008 European Championship, France's record at major tournaments following their hegemony at the turn-of-the-century would make England blush. Conquered by the gritty Greeks at Euro 2004, they were one of the most fortuitous World Cup finalists in 2006 and won one match out of four at Euro 2012.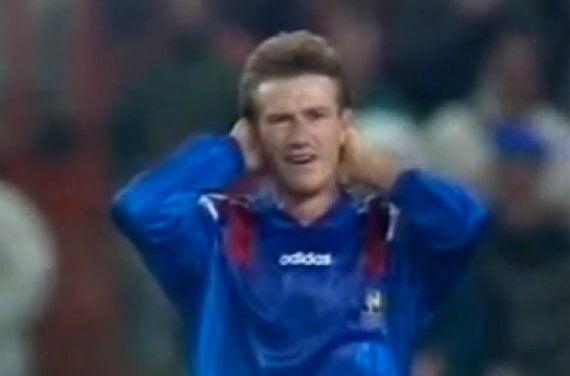 Deschamps struggles to hold back the tears 19 years ago
After the Hand of Gaulle in 2009 and the mutiny in South Africa the following year, it is arguable whether they would be missed.