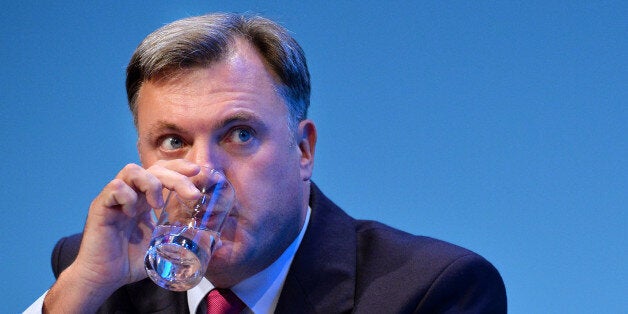 The five things you need to know on Tuesday 19 November 2013...
Ed Balls and Ed Miliband don't get along? Don't. Be. Silly.
"Ed Balls last night denied he and Ed Miliband are similar to warring Tony Blair and Gordon Brown.
"His comments came after a leaked email from the Labour leader said it was a 'nightmare' trying to agree an economic policy with the Shadow Chancellor.
"Mr Balls told ITV's Agenda: 'Actually Ed and I get on really, really, really, well, we work very closely together, but are you going to believe it? Not tonight.'"
But Balls has other issues to deal with - from the front of the Telegraph:
"The Conservatives highlighted connections between Mr Balls and the Rev Paul Flowers, the former chairman of the Cooperative Bank. Mr Flowers, 63, a Methodist minister and former Labour councillor, has been suspended from the party after film footage apparently showed him discussing the purchase of crystal meth, cocaine and ketamine... In March 2012, Mr Balls's office received a donation worth £50,000 from the Co–op Group. As chairman of the bank, Mr Flowers was a director of the group at the time. In his evidence to MPs, Mr Flowers confirmed that he had been involved in a decision to give financial support to Mr Balls's office."
2) 'OUT OF CONTROL' SPYING
Nick Clegg might be upset with the Guardian's NSA/GCHQ revelations but his close ally, and one of his predecessors as Lib Dem leader, Lord Ashdown isn't. From the Guardian:
"The technology used by Britain's spy agencies to conduct mass surveillance is 'out of control', raising fears about the erosion of civil liberties at a time of diminished trust in the intelligence services, according to the former Liberal Democrat leader Lord Ashdown.
"The peer said it was time for a high-level inquiry to address fundamental questions about privacy in the 21st century, and railed against 'lazy politicians' who frighten people into thinking "al-Qaida is about to jump out from behind every bush and therefore it is legitimate to forget about civil liberties". 'Well it isn't,' he added.
"Ashdown talks frequently to the deputy prime minister, Nick Clegg, and is chair of the the Liberal Democrats' general election team. Though he said he was speaking for himself, his views are understood to be shared by other senior members of the Liberal Democrats in government, who are also keen for some kind of broad inquiry into the subject."
3) DAVE, SRI LANKA AND THE TORY DONOR
"David Cameron has been urged to investigate why the Tory Party took over £420,000 from the telecoms group Lycamobile, which has close links to Sri Lanka's controversial President Mahinda Rajapaksa.
"Labour MP Tom Blenkinsop told the Huffington Post UK: 'The Prime Minister knows his party has received over £420k from a company closely associated with the Sri Lankan regime. He was obviously so concerned that his own MPs were recently prevented from visiting there. So in the interests of transparency I want to know if the Prime Minister is going to investigate why his party has received over £420k from this company so closely associated with the Sri Lankan government.'"
BECAUSE YOU'VE READ THIS FAR...
4) SEAT OF DEMOCRACY OR A FOOTBALL FIELD?
It was all kicking off in Toronto yesterday. From the Guardian:
"Rob Ford, the embattled mayor of Toronto, was stripped of many of his powers on Monday after a heated city council debate during which he knocked over a woman councillor and heckled members of the public.
"In a series of votes, the council voted to cut his office budget by 60%, and allow members of his staff to transfer to the deputy mayor. He will no longer be able to chair the council's executive committee, retaining only his ceremonial powers.
"... At one point, Ford charged at the gallery, and knocked over a councillor, Pam McConnell, before picking her back up. Ford said he was rushing to the defense of his brother, city councillor Doug Ford... Visibly shaken after Ford ran her over, McConnell, who is in her 60s, said she never expected the chaos that broke out. 'This is the seat of democracy, it is not a football field.'"
5) GREENEST GOVERNMENT EVER? NOT QUITE
"The Government has failed to deliver on more than a third of the pledges it made to improve the natural environment and has made 'good progress' on less than a fifth of them, according to research published today.
"A report by a consortium of 41 NGOs concluded that the Coalition's environmental record had 'steadily worsened' during its time in office and found that 79 per cent of the population believe it has not lived up to its pledge to be the 'greenest government ever'.
"'David Cameron promised the greenest government ever. Using the Government's own promises as a yardstick, these findings show he's failed to stick to his plan,' said Dr Elaine King, the director of the consortium, known as the Wildlife and Countryside Link."
Owen Paterson, the environment secretary, was on the Today programme this morning to say how "unfair" the report is. Well, he would say that, wouldn't he?
From the Sun/YouGov poll:
That would give Labour a majority of 86.
@Ed_Miliband On average, three Sure Start centres are being lost each week under David Cameron. #CostOfCameron
@tom_watson If I borrow £100 from Wronga for 5 years I'll owe £831,736,480!
@benjamincohen My friend @Mike_Fabricant is going to wear a fake moustache in the House of Commons if you sponsor him! Do it!
Rachel Sylvester, writing in the Times, says: "Despite tensions at the top, Shadow Cabinet 'clean skins' have put Labour's old factions behind them."
Polly Toynbee, writing in the Guardian, is: "Whoever the 'middle class' are, they're about to be bribed with tax cuts."
Benedict Brogan, writing in the Telegraph, says: "How can it be that a party widely blamed for the nation's ills is in a position to measure the curtains for Downing Street?"
Got something you want to share? Please send any stories/tips/quotes/pix/plugs/gossip to Mehdi Hasan (mehdi.hasan@huffingtonpost.com) or Ned Simons (ned.simons@huffingtonpost.com). You can also follow us on Twitter: @mehdirhasan, @nedsimons and @huffpostukpol
Related