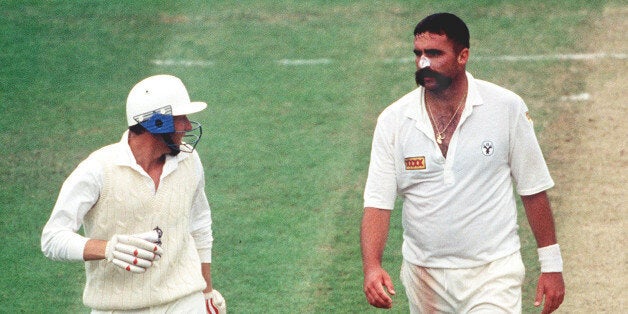 Worried a second Ashes series in the same year could diminish its aura? Think again. Australia and England's rivalry is one of the fiercest in cricket history and also tends to offer some truly magnificent sledging exchanges.
Some you will have heard, some you will not have. Considering how chippy and chipped on the shoulders Aussies are, there are plenty to recall...
JAMES ANDERSON AND MITCHELL JOHNSON
If you didn't see England's Champions Trophy victory against Australia in June then you missed the Barmy Army's wonderful Daryl Strawberry-like heckling of Mitchell Johnson. "Miiiitchellllllll... Miiiitchellllllll... Miiiitchellllllll..." they chanted in unison at the pantomime villain.
Johnson will be back for the winter Ashes, and his Test match legacy against England boils down to one rash comment to James Anderson in the 2010-11 series.
"Why are you chirping now mate, not getting any wickets?" Johnson - at the non-striker's end - asked Anderson, who immediately bowled Johnson's partner out.
MERV HUGHES AND ROBIN SMITH
Two - yes, two - pearlers from this backbiting duo. Hughes started it (naturally) when he offered Smith some valuable advice at Lord's in 1989...
"If you turn your bat over you'll see the instructions on the back."
Later on in the Test match, Smith played and missed a shot.
"You can't bat," chirped Hughes. Of course, the next ball hit the boundary.
"Hey Merv, we make a fine pair," said Smith. "I can't bat and you can't f*****g bowl."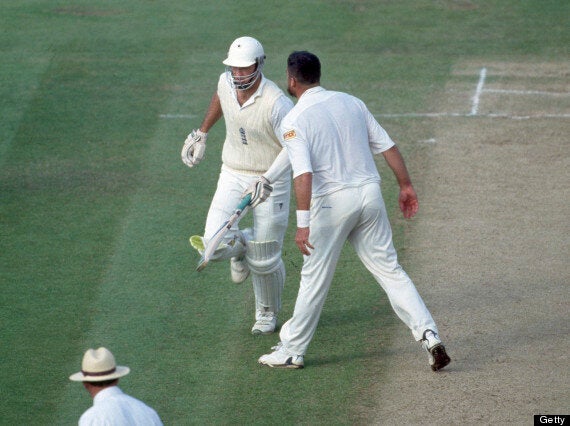 One can't bat, one can't f*****g bowl
Tuffers, as you might have guessed from Test Match Special, is about as intelligent as Dooby-Doo. He is also a remarkable sledging case, in that he has received verbals from players, spectators and umpires.
Having once lost count of how many deliveries he had remaining in an over, Tufnell asked Australian umpire Peter McConnell for clarification.
"Count them yourself, you pommie b*****d," he unhelpfully replied.
Worse was to come when Tufnell trudged to the boundary, where the Pom-bashers were waiting.
"Oi, Tufnell. Lend us your brain, we're building an idiot!"
And then there was Craig McDermott's tribute to Merv Hughes...
"You've got to bat in a minute, Tuffers. Does hospital food suit you?"
MARK WAUGH AND JAMES ORMOND
Unlike his brother, Mark Waugh occasionally came unstuck when he attempted to psychologically maim an opponent. Even if it was two-Test batsman James "fond of a fag and a few beers" Ormond.
"Look who it is. Mate, what are you doing out here? There's no way you're good enough to play for England."
Without missing a beat, Ormond casually turned around and said: "Maybe not, but at least I'm the best player in my family."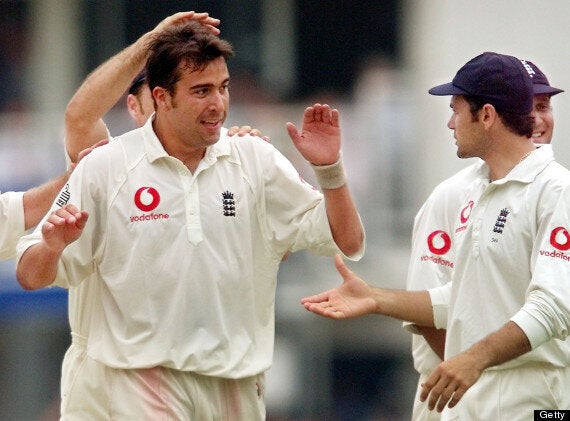 James Ormond: "Fond of a fag and a few beers"
Possibly the daddy of all sledging exchanges...
Marsh: "So how's your wife and my kids?"
Botham: "The wife's fine, the kid's retarded."
MICHAEL ATHERTON AND IAN HEALY
How did Atherton end up on this list? Known for not saying anything despite how much stick he received, Atherton wittily humiliated the lippy Healy on his first tour of Australia.
Atherton stood his ground during an appeal for a catch behind and at the end of the over Healy labelled him a "f*****g cheat". Very gentlemanly, Atherton shot back: "When in Rome, dear boy."
TONY GREIG AND DAVID HOOKES
Born in South Africa, whenever the loquacious England captain Greig had something to say Australia were always armed with ammunition. So when Greig asked rookie David Hookes: "When are your balls going to drop sonny?" he should have been prepared for the put-down.
"I don't know, but at least I'm playing cricket for my own country."
Warne also Paul Collingwood, infamously awarded an MBE for playing one innings of the 2005 Ashes series, just what he thought of that accolade in the 2006-07 series.
"You got an MBE, right? For scoring seven at the Oval? That's embarrassing."
Related