There's a perception that to be an airline pilot you need to know rocket science - perhaps it's because to most of us mortals, the idea of flying a giant tin bird thousands of miles above the sky seems somewhat daunting.
But British Airways - who have issued a call out to help women enter their training scheme - are trying to make it a more accessible career path in a male-dominated industry.
HuffPost UK Lifestyle spoke to First Officer Kate Laidler who said: "For me, I feel like other women don't consider themselves as viable options for airline pilots – I wanted to say they can do it too. You don't have to be a genius."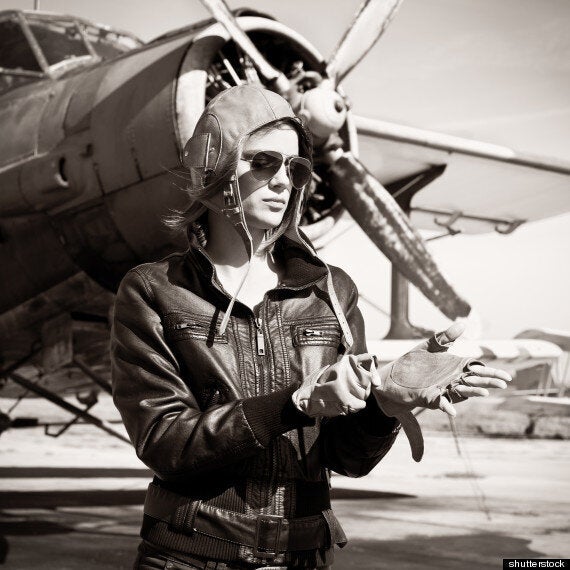 At present, BA has more female pilots than any other carrier in the UK - but as a mark of how stark the disparity is - out of their 3,500 pilots, only 200 are women.
A survey of children carried out by BA earlier this year showed that becoming a pilot is the second most popular career aspiration for young boys, yet isn't a consideration for girls at all. This, to us, isn't surprising - in addition to BA calling out for more female applicants, schools need to take more responsibility for pointing it out as a career path to girls.
One of the barriers to becoming a pilot is the expensive training fees involved. But the programme helps applicants to gain a place at an approved flight training school by acting as a guarantor for a loan, and successful candidates will land a job as a British Airways pilot.
We chatted to Kate further about how she became a pilot:
What made you even think of it as a career option?
My dad always used to say 'be a doctor or be a pilot' - I he wanted me to get rich and look after him when he was old. It was said as a joke, but when I was 16 I looked at career options and looked at the RAF website. I had a look at the requirements and thought oh: I can do it.
They told me to go to university and get flying experience with cadets, which I did. What tipped it over for me for commercial flying is when I'd gone to work in America at a camp, on the flight back, I was invited to meet the pilots on the flight decj. The jumbo is my favourite aircraft and at the end of the trip they gave me their flight plan.
What requirements do they need?
For the future pilot programme – you need five GCSE grades C and above – and it has to include English, Maths and Science. You need a degree 2:2 or higher or A-levels at BBC grades. Having a good skillset of life experience is really great – team work, leadership skills and and motor skills are required. When you're dealing with 500 passengers, you have to have that customer service.
With regards to levels of fitness, the only thing that will rule you out is being colour blind – they won't make you jog round a track or anything! I'm a normal 28-year-old we have pilots who are 60-65 years old.
But it is expensive to do the training?
Before you would have had to mortgage your house to do it - I was only able to do it with an unsecure loan. With this programme BA act as the guarantor and if you get hired by them, you can pay it back through your wages.
Some people get really weird about women pilots - why is that?
Women flying – it's the fear of the unknown. With me, I find what's most pleasant is at the end of the day, when I say goodbye to passengers, the feedback is mostly positive – they say you were great, what a fantastic landing.
What makes your job worth it?
For me the best bit is that first time when I see the sun. I know it sounds cheesy, but if I've woken up at 4am and feel like death, and then we're climbing through the clouds, I'm having breakfast with the best view in the world. We then end up in fabulous destinations – I could stay the night in Paris, St Lucia and Barbados.
Also, it's flexible working. You can choose what shifts you do. At first I thought 'Oh God, I have to get up at 3am' but you get into the swing of things. We don't get maxed out because safety is paramount. If you hate early starts, you could just do lates. It's brilliant and good for people who have families.