Monty Python are on their way back, the five remaining members have confirmed in a press conference held in London today.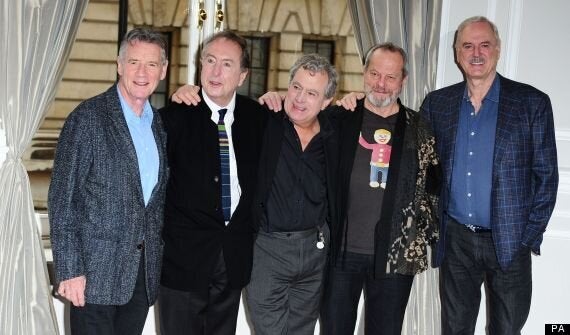 Reunited - Monty Python ready to go back on stage
The last time the troupe was together on stage was at the Hollywood Bowl in 1980. It is four decades since they were on stage in London's West End.
As well as their celebrated sketches, Monty Python have earned an enduring place in the comedy cannon, with their films 'Monty Python and the Holy Grail' and 'The Life of Brian', with its timeless payoff tune 'Always look on the bright side of life...'
A marked absence today was sixth member Graham Chapman, who died in 1989, but the conference was hosted by an equally humorous character - Warwick Davis, for whom the microphone proved to be, initially, too high.
The reunion, described as "a final reunion, well sort of", will take place at London's O2 arena next July.
Tickets will go on sale on Monday at 10am.
The show will include: "Comedy, pathos, music and a tiny piece of ancient sex," according to Eric Idle. It will be a mix of old and new material, according to John Cleese, and will find a way of including much-missed Python Chapman.
Despite a plethora of foreign journalists asking the team if they would be bringing the show to various countries, it is currently a one-off plan, with no plans (yet) to take this on the road.
The conference's special moment... when a Spanish journalist asked the first question. "We didn't expect the Spanish Inquisition," sneaked in Michael Palin, who was also the last of the troupe to convince of the merits of the reunion.
Related