Cheese and ham sandwiches, bacon rolls, sausage and mash - it's safe to say that pork is a key ingredient in the British diet. (For meat eaters, at least.)
But, tasty and hangover-curing as the above may be *high fives bacon roll*, this little piggy could do with a shake up.
We've teamed up top chefs to bring some tasty and inspiring pork recipes.
Enjoy.
Black Pudding Scotch Egg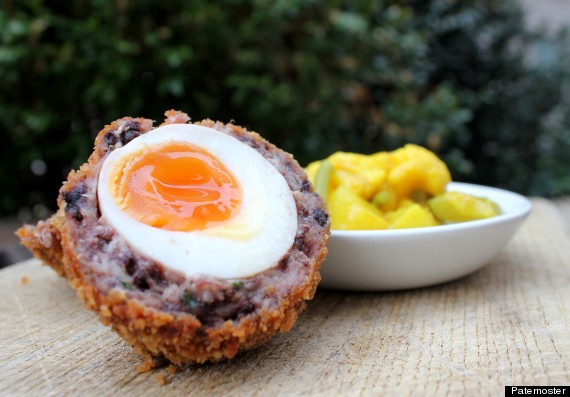 Ingredients
6 Burford brown eggs
350g coarse sausage meat
150g black pudding, finely crumbled
20g flat leaf parsley chopped
Malden salt (to taste)
Milled pepper (to taste)
200g flour
2 eggs, beaten and let down with a little water
200g Penko bread crumbs
Method
Place all six eggs in to boiling, heavily-salted water and cook for 6 minutes before plunging into iced water till cold
Peel the eggs and leave on a cloth to dry for a few minutes
Mix the sausage meat, black pudding, parsley, salt and pepper in a bowl before weighing up into 70g balls
Taking a ball at a time, flatten in out in the palm of your hand keeping it as even as possible
Place the egg in the middle of the meat disc and gently enrobe the egg, making sure it the meat is sealed around it
Put each egg on a tray and put in the fridge so the meat firms up
Using 3 trays (one for flour, one for eggs and one for bread crumbs) roll the sausage-covered-egg first through the flour, dusting off any excess; then through the beaten egg (again, removing any excess) and then finally, through the bread crumbs, making sure it is evenly covered
Repeat this process so that each egg has been through the mixtures twice
Have a deep fat fryer set up in a safe place and running at a temp 180˚c
Gently place your balls into the frying basket, making sure not to over-crowd it
Lower into the oil and cook for 6 minutes
Take out and place on a cloth, letting all the excess oil drain off
Season with a little molden salt to taste
From David Philpott - Paternoster Chop House
See Also:

Luxury Burger Recipes: Fast Food Sheds Its Greasy Reputation And Becomes, Well, Trendy
Braised Pork Cheeks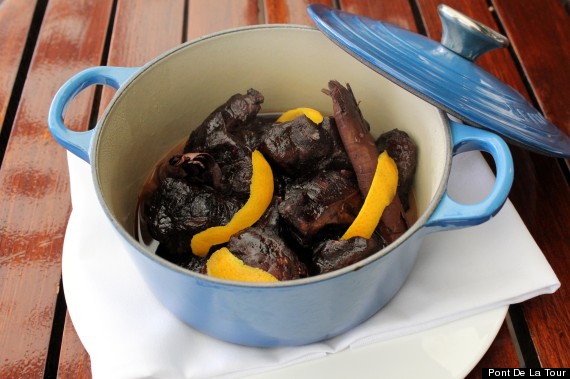 Serves 4
Ingredients
1kg trimmed pork cheeks (you can get these from local butchers)
300ml red wine
1.5L veal stock
50g dried apricots
1 medium/large onion, diced
1 clove of garlic
1 orange
1 quill of cinnamon
2 cloves
1 sprig of thyme
1 bay leafour
Some salt & pepper
2L water
100g salt
Method
Mix 2L of hot water with 100g salt to make the brine
Soak the pork cheeks overnight in the brine
Drain them off and rinse in fresh water
In a thick-bottomed pan, sweat down the onion
When it is soft add the garlic, cinnamon, cloves, thyme and the bay leaf
Peel the zest off the orange and add to pan
Sweat the mix for a few minutes to release all the flavours
Add the wine and bring to the boil for 2 minutes
Now add the pork cheeks, veal stock and apricots
Bring to the boil, skim and cover
Place in a pre-heated oven at 150C for around 2 hours or until the cheeks are very tender
Remove from the oven
Juice the orange and add to the braising liquor just prior to serving
Tom Cook - Pont De La Tour
Spiced Pork Burger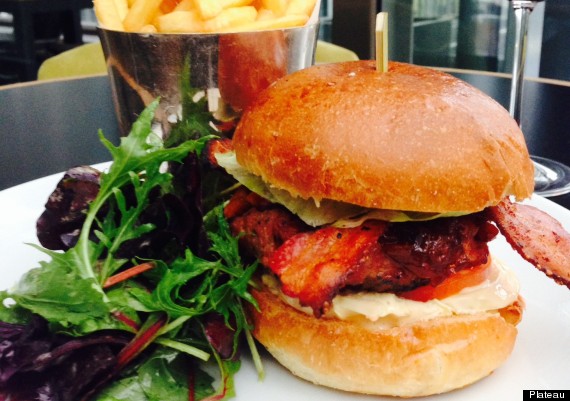 Serves 4
Ingredients
4 burger buns
8 rashers of smoked streaky bacon
120g diced pork shoulder (cooked)
8 table spoons of good quality BBQ sauce
8 tablespoons of coleslaw
1 ripe beef tomato (one slice per burger)
For the patty
800g ground Old Spot pork shoulder or another good quality breed of pork
40g smoked bacon finely chopped
40g butter
1 teaspoon of smoked paprika
½ teaspoon cayenne pepper
1 teaspoon of Malden sea salt
2 good pinch of chilli powder
4 twists of freshly ground black pepper
Method
To make the patties, mix all of the ingredients together
Leave to set and infuse for 1 hour before cooking.
To finish
Mix the cooked pork with the BBQ sauce and warm it though in a pan.
Cook the streaky bacon until just crispy.
Cook the pork patties until the juice runs clear and then start to build the burgers.
Grill your bun that has been cut in half and place the cooked patty onto the bottom half, followed by the BBQ pork and then the tomato slice and coleslaw. Finally add the top of the bun and squeeze gently together.
Serve with fries or chunky chips.
From Allan Pickett - Plateau
The Pig Idea, fronted by restaurateur Thomasina Miers and environmentalist Tristram Stuart, campaign to encourage the use of food waste to feed pigs. The initiative is supported by D&D restaurants.
The 'Pig' Feast will take place on Thursday 21 November to promote the initiative in Trafalgar Square, serving complimentary pork dishes from renowned London restaurants and chefs to the public between 12noon and 4pm – perfect for tourists and Londoners alike.