Thousands of people braved the cold for the console's unveiling in central London, which included performances from singers Plan B and Katy B.
Leicester Square was transformed into a fantasy world overrun by zombies from Dead Rising 3 and a Roman legion from Ryse: Son of Rome, while England footballer Andros Townsend battled it out on stage with a competition winner.
With the launch of Sony's PS4 next week, Microsoft has a head start on its rival in the run-up to Christmas and the computer giant wasted no time in setting out its stall for the new device.
"We're proud and excited that Xbox One is going to be the biggest launch in Xbox history," Phil Harrison from Microsoft said.
"Xbox One is a complete, all-in-one system which has the best games, the best online service in Xbox Live, the best entertainment experiences and is built for the future. With the strongest line-up of games we've ever seen for a new console, pre-orders from fans across the UK are at unprecedented levels."
Microsoft said the UK spends more than £1.77 billion on video games - more than on any other form of entertainment including cinema, DVD and music.
Harrison added: "The games industry is evolving and growing fast, and we are proud to have so many British developers and creators helping to drive the new Xbox One era."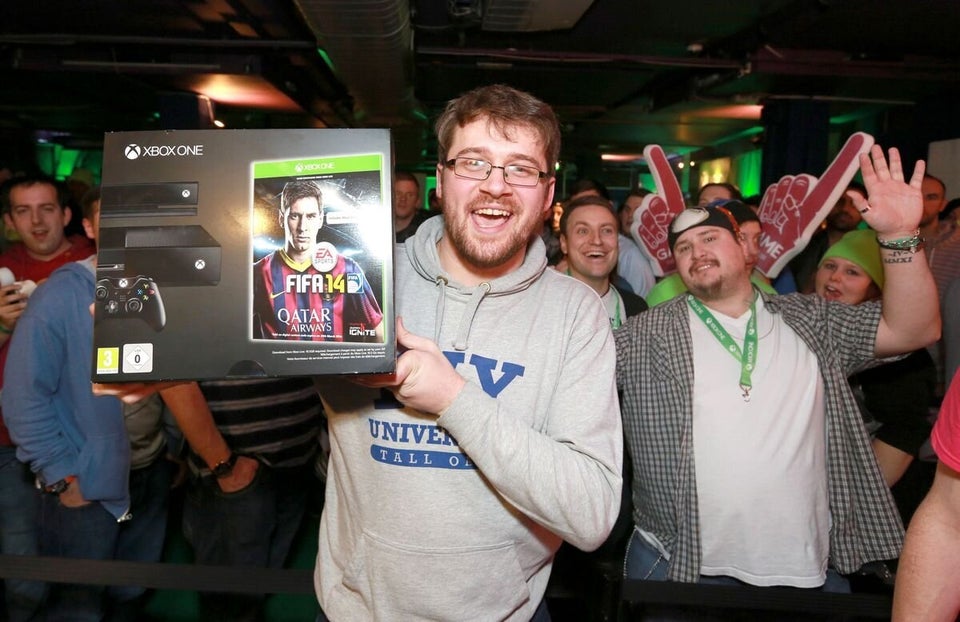 Xbox One Released
Xbox One allows users to play games, watch TV shows, movies and music, surf the web, and talk via Skype, while recognising the sound of the user's voice to instantly switch between entertainments.
The new console - which went on sale at midnight - costs £429.99 and is being launched alongside brand new games.
Two gaming enthusiasts from London were among the first to play Fifa 14 on the console on a vast screen in Leicester Square.
Ahmed Sheik, 19, from Hackney, east London, said: "It was sharp and the controller felt better."
His friend, Mohammed Hassan, 20, from Plaistow, east London, said: "The graphics were immense and the gameplay was brilliant. The perfect game."
Chat show host and gaming enthusiast Jonathan Ross also attended the launch.
He said: "It's an exciting time. I'm more excited about the Xbox One than I am about the PS4.
"I think they're trying to move the whole technology side of it forward."
Christened "Xbone" by some gamers, the Xbox One is the successor to 2005's long-lasting Xbox 360 and the third device in the Xbox family after Microsoft entered the console market in 2001.
It has a 500GB hard drive, an eight-core processor and a beefed-up version of Microsoft's Kinect system, which allows a camera to track and interpret human body movements.
The UK's leading games retailer, Game, opened a pop-up store in London's Trocadero, which will be open over the weekend.
Hundreds of gamers were given the chance to play the console a couple of hours before it was released.
Kenneth Grinell, from London, played Call of Duty: Ghosts.
"It feels fast. The maps are bigger," he said.
Asked if he was going to buy an Xbox One soon, he said: "I'm waiting for a few more games to come out."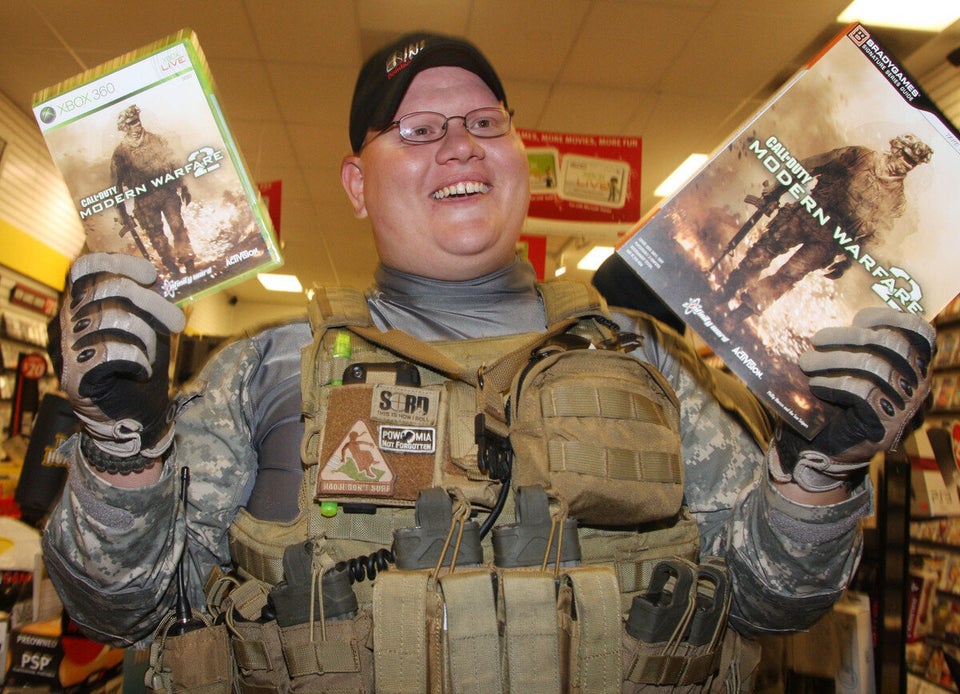 Awkward Video Game Launch Photos
The 25-year-old said Microsoft still had to win round some gamers who turned their backs on the computer giant after the E3 trade fair when Sony announced that its games would not require controversial "always on" anti-piracy measures just weeks after
Microsoft said its consoles would check in every 24 hours.
Microsoft abandoned the policy, but Mr Grinell said: "They (Microsoft) have gone back on a lot of the policies but the perception is still there.
"It's going to take a while for people to change their minds, but I think they will eventually."
Computer games enthusiast Ahmed Sallam, 25, from Toronto, Canada, played the latest Assassins Creed game and said he would probably buy one in about a week, once he had finished playing the games on his old Xbox.
"It's my favourite system," he said. "It's more for the hardcore gamer, in my opinion."
Martyn Gibbs from Game said: "Last night was incredible. You could almost taste the excitement - gamers have been waiting for Xbox One for years and we saw a massive turnout at the midnight openings at more than 300 Game stores across the UK."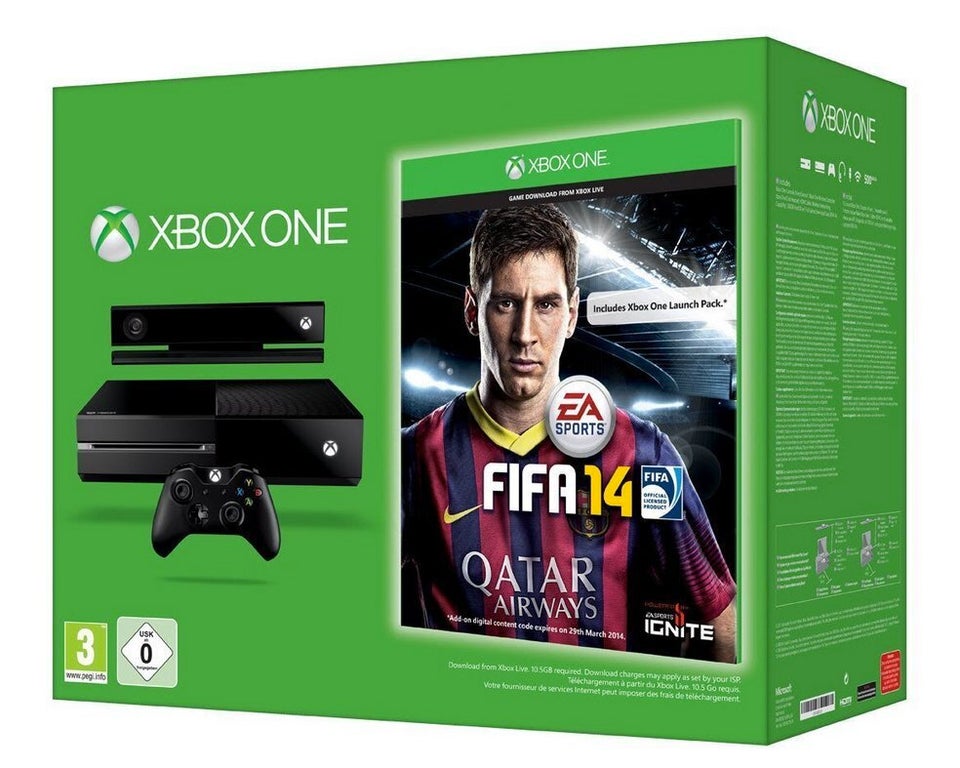 Xbox One Buyer's Guide