One Direction silenced their critics - including one Mr Boy George - as they performed their latest single, 'Story Of My Life' live at the American Music Awards on Sunday night.
Leading the band's strong vocals was Harry Styles with his ever maturing voice and collectively Niall Horan, Liam Payne, Zayn Malik and Louis Tomlinson also proved they can cut it live.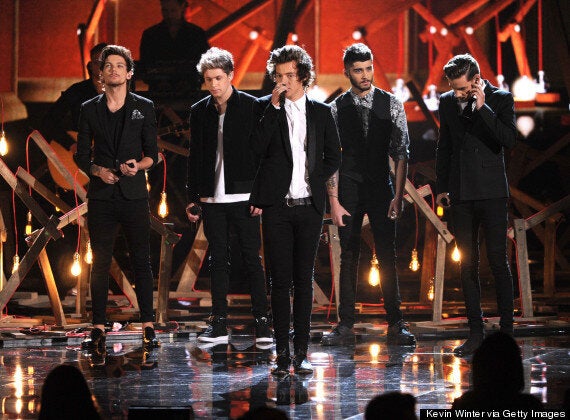 One Direction at the AMAs
Praise for the boyband comes after singer Boy George claimed One Direction mimed their pre-recorded 'X Factor' performance on Sunday night, writing on Twitter:
1D not only smashed it with their live performance (watch in the video below) but also picked up a gong for Best Pop Album for 'Take Me Home'. See the full winners list below the video...
Favourite Male Artist, Pop/Rock
Favourite Female Artist, Soul/R&B
Favourite Album, Rap/Hip-Hop
Macklemore & Ryan Lewis/The Heist
Favourite Artist, Alternative Rock
Favourite Album, Pop/Rock
One Direction/Take Me Home
Favourite Male Artist, Soul/R&B
Favourite Female Artist, Country
"Cruise" by Florida Georgia Line, featuring Nelly
Favourite Album, Soul/R&B
Justin Timberlake/ The 20/20 Experience
Favourite Artist, Electronic Dance Music
Favourite Male Artist, Country
Favourite Band, Duo or Group, Pop/Rock
Favourite Female Artist, Pop or Rock
Favourite Band, Duo or Group, Country
Favourite Artist, Rap/Hip-Hop
Favourite Artist, Adult Contemporary
Favourite Artist, Contemporary Inspirational