You know it's Christmas when, clan Kardashian let their annual season's greeting loose on the world. This year the Kardashian-Jenner family have offered up a vision in white for us to feast our eyes upon. No less ridiculous than last year's ice-blue bowtie-infested token, 2012 portrays the ever-growing brood in all their reality telly glory... Minus Kim's current beau Kanye West.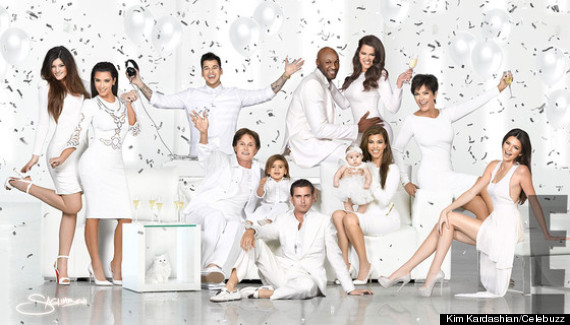 Team MyDaily is wondering why Kanye wasn't involved in the festive fun, his name does begin with a K after all.

So let's get to this, from the left...

1. Kylie, went for the big bouffant Khloe-esque hair do (lion's mane comes to mind) and slipped into a simple long-sleeved body con.

2. Kim teamed slicked back hair with a similar form-fitting dress, and was clearly feeling Kanye's absence as she clung on to half-sister Kylie's hand.

3. Next, and quickly skirting over the fluffy cat trapped in what looks like a mini bar, Rob was apparently playing the angelic DJ (it took us a while to work out why he was holding headphones).

4. Then Bruce Jenner casually lounged on the floor looking like he'd just stepped out of a Duran Duran video, with Kourntey's little boy mason on his lap (cute).

5. Kourtney's hubby, Scott Disick - also looking like some horrendous 1980s loungewear flashback - was the only one who wasn't smiling...

6. Lamar Odom had his hands affectionately placed on wife Khloe's hips while she toasted the festivities with a glass of champagne.

7. A grinning, Kourtney cuddled new baby girl Penelope, who was clearly dressed as the sugar plum fairy.

8. Mum Kris, was obviously having a whale of a time, while Kendall seemed to find the whole shebang totally hilarious.

Done... Phew!

From little angels to Hell's Angels, seaside snaps to gothic opulence the Kardashian family's Christmas card collection is a right cracker. To get you in the mood for a whole season of festive fun, we thought we'd treat you to a little peek at some more of their most ridiculous snapshots... enjoy!