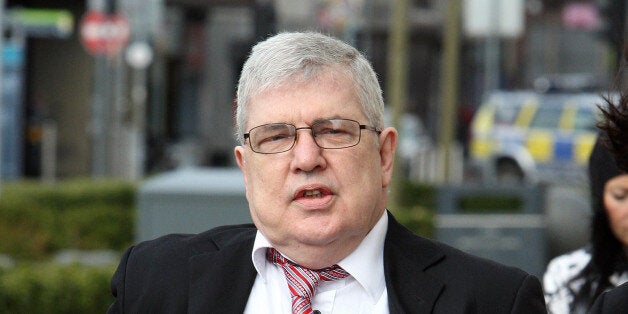 The paedophile brother of Sinn Fein president Gerry Adams has been sentenced to 16 years in prison for raping his daughter.
Liam Adams, 58, from west Belfast, was found guilty last month of a string of sexual assaults on Aine Dahlstrom when she was a child in the late 1970s and early 1980s.
Judge Corinne Philpott QC handed down the sentence, which included a further two years on probation, at Belfast Crown Court.
Liam Adams, from Bernagh Drive, was found guilty of 10 offences against his daughter. The abuse was committed over a five-year period between 1977 and 1981, when she was aged between four and nine.
Ms Dahlstrom has waived her right to anonymity.
Adams's convictions have heaped pressure on his high-profile older brother to explain why he did not alert the authorities to the abuse allegations when he first learned of them.
During a first trial earlier this year, which collapsed, the Sinn Fein leader, now a public representative in the Irish Republic, claimed he first heard of the sex abuse claims in 1987 and, 13 years later, his younger brother admitted his guilt to him.
The former west Belfast MP faced criticism for not informing police at the time of the revelations. His statements to detectives were made in 2007 and 2009.
Police Service of Northern Ireland (PSNI) officers recommended the Public Prosecution Service (PPS) take no case against the Sinn Fein veteran.
Northern Ireland's police ombudsman is now investigating whether detectives properly examined whether Gerry Adams covered up the crimes and the PSNI has pledged to review the case.
Attorney general John Larkin is examining the role of prosecutors.
Gerry Adams has insisted he committed no offence and accused political rivals of exploiting a family issue to attack him.
Adams, dressed in brown jacket, jeans and blue checked shirt, showed no emotion as the sentence was handed down.
Ms Dahlstrom watched on from the public gallery.
As he left the dock her father smiled and laughed as he talked with prison guards.
Earlier Judge Philpott told the court that he had committed the "greatest breach of trust imaginable".
"The evidence has established in the view of this court that he used this child for his own sexual gratification, whenever he had the opportunity when her mother was not present in the house."
As well as spending two years on probation at the end of his prison sentence, Adams, a former youth worker, will be placed on the sex offenders register and will be barred from working with children.
The abuse started when Ms Dahlstrom was only four.