The GoPro Hero 3+ Black Edition camera is out now for about £359.
1/2.5-inch back-illuminated CMOS
12.4-megapixel sensor
MP4 video up to 4K/15fps, 1080/60fps and 720/120fps
Waterproof to 40m
Slightly thinner and lighter
Improved battery life and image quality (in low-light)
WiFi remote and mounts included
"Capture and share your life's most meaningful experiences with the HERO3+ Black Edition. 20% smaller and lighter than its best-selling predecessor, it delivers improved image quality and powerful new features geared for versatility and convenience."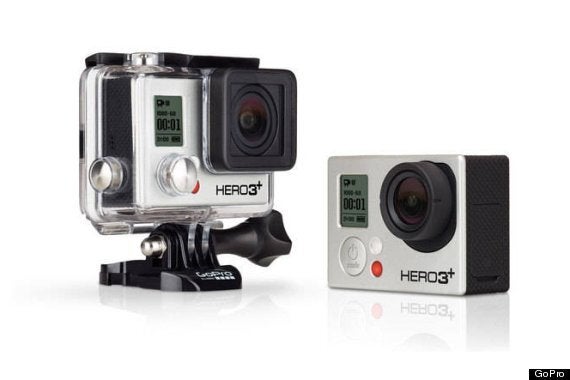 In a sense, the GoPro is now the 'Biro' of extreme sports cameras. The brand dominates the market for small, rugged video recorders that can follow you onto the water, the slopes or the sports pitch and capture your most, sigh, extreme moments. And naturally the company is feeling pretty good about that, bro.
But even as the GoPro brand grows, the number of competitors is also multiplying. And like the FlipCam before it, more and more people seem to be considering 'non-GoPro' GoPros, based on factors like price and more imaginative design.
To that end GoPro has released the Hero3+, an incremental update on last-year's market-leading Hero 3. And while it's not a massive upgrade, it should ensure that for a while yet, at least, those flying vulture and insane parkour videos you watch on YouTube are made with a true GoPro, and not another brand's equivalent.
Outwardly the Hero 3+ looks very similar. There's still no LCD screen included (you can get one as an optional extra) and so the main unit is still a little silver box, about the size of a matchbox. It's designed to be housed in an included protective, waterproof case, and affixed to your board or your person with a variety of mounts and accessories. The new model is slightly smaller and lighter than the Hero 3, though size and weight was never a particular problem from this diminutive little device, in most cases.
The big improvements are made inside the camera, in two main areas. Firstly the lens is improved massively, with a much lower minimum focus distance. But it still has the same range of size/frames-per-second options, up to 4K (at 15 FPS) and 1080P at 60 FPS, while producing sharper images with a better colour balance than before. We'd have to test it more extensively in the field (or the mountains) to be sure, but it seemed to deliver a less distorted image too. That's a really nice suite of improvements.
The Hero's microphones have also been redesigned, and while you'll still need an external mic to capture much more than aggressive wind-rushing noises, it seems to pick up less irritating rustling than before.
The other major hardware upgrade comes in the battery life, which has been boosted by about 30% up to about two-hours of shooting, without WiFi. This drops depending on how high you set the resolution, and whether you use the WiFi remote or LCD screen. And you're still going to need a spare if you're planning anything ambitious. But it's a decent improvement on the old generation.
Also included with the new camera is an improved and redesigned case, which is simpler to open and still feels as strong as ever, even though the water resistance has dropped to 40m from 60m. It makes the buttons easier to press, too, which is handy.
The new Hero 3+ also comes with a range of new shooting modes, which are useful but still fiddly to set with the basic and unintuitive one-button interface. They include an automatic Low Light mode, and the 'SuperView' mode which shoots in 4:3 and converts it on the fly to 16:9, without cutting off the top and bottom of the image. The result is a wider view, and no great reduction in quality. Neat.
The overall feeling is of a solid, confident product which isn't a massive upgrade over the previous generation, but is automatically the best camera in its class by some distance. In this sense it's an 'Apple-style' upgrade, missing some obvious improvements (like 4K at higher frame rates) but still lighter, thinner and better than its old incarnation. If you can afford it - and aren't swayed by similar (often cheaper) products without the brand cache of the GoPro - it's a no-brainer. As long as you're not just using it to film cat videos.