The only man seemingly surprised at Martin Jol's Fulham sacking was his replacement.
"It's a shame, I didn't see it coming," René Meulensteen told Sky Sports News. "It was something I didn't want to happen to be fairly honest."
Meulensteen was Anzhi Makhachkala coach for 16 days and Fulham assistant for 17 days, so he might wake up somewhat nervously on 19 December, especially if Fulham fail to beat Tottenham, Aston Villa or Everton in their next three matches.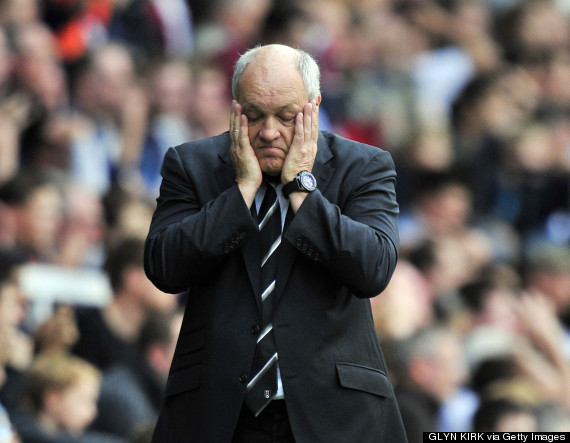 Can't bare to watch: Jol's Fulham era ended with six successive defeats
Highly regarded at Manchester United and lauded by Robin van Persie as "one of the best coaches in the world", Meulensteen has a renowned reputation for a coach whose managerial stints have been disastrous. While his short stint at Anzhi was ended by the club's financial difficulties, he lasted six months at Brøndby in the 2006-07 season.
The topic of British managers not being trusted in their own country is a debate for another day, since Meulensteen is a rather curious figure for Fulham to turn to in a crisis.
What is noticeable from attending matches at Craven Cottage is the sheer impatience the supporters have for the squad's mavericks. Bryan Ruíz, who was quoted by the club thanking Jol on Sunday, is the scapegoat of their campaign and the dogged Scott Parker appears to be the most popular player among fans.
Meulensteen is a technical coach and while Fulham have plenty of flair there is little fight. It is no coincidence that during the Dutchman's five years as a first-team coach at United the Reds were often outmuscled by opponents varying from Liverpool to Crawley Town.
His arrogance could also rub some players the wrong way. A number of interviews following his summer departure from Old Trafford were, as Sir Alex Ferguson might have opined, "a bit Walter Mitty".
Regarding Cristiano Ronaldo's emergence in the 2007-08 season, Meulensteen gave the impression his development was down to his personal tutoring. One tweeter suggested he'd next claim credit for the Cruyff Turn.
Then again, Jol had clearly gone stagnant at Fulham and perhaps a new figure at the helm will revitalise a club with two home fixtures this week. Meulensteen has already said the Whites need to spend in the transfer window, but their survival is dependent on him grafting along with the players, too.