UPDATE: Ah, alas - as we originally mentioned was probably, the bid has turned out to be too huge to be true. The £2,500 bid on the mentioned auction has been retracted, and the bidding now stands at £530 - still high, but not as absurdly high as before.
Sony has sold a lot of Playstation 4 consoles. There are none left in the UK.
So naturally, the buyers and sellers of eBay have lost all sense of proportion and common sense.
And as of Tuesday, at least one PS4 bundle has received a bid of £2,500 - just under six times its original asking price.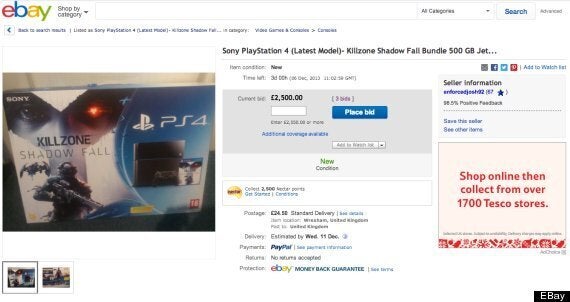 The bid was received on Tuesday from a buyer who beat the previous bids of £2495 and £1000. It is always possible that the bids were not serious, and until it sells we can't know for sure. But from what we can tell it appears genuine.
Several other PS4 lots on the site are being offered at similar sums, though many of those do at least include more games or an extra controller as part of the - still totally absurd - deal.
Needless to say, if you're desperate to get a PS4 before Christmas, we recommend biding your time.
Sony UK has promised that a "substantial number" of the consoles are heading to our shores to meet demand.
"We are delighted by the initial sales of PS4 and are proud to have set new records for a UK console launch," said UK MD Fergal Gara to MCV.

"In particular, I want to thank all the gamers who have waited patiently for PS4 and who have come out to support PlayStation. I also want to thank all of our retail and publishing partners who have helped make this possible by delivering huge sales in a very short period of time and great games for PS4.

"Since the initial announcement back in February, pre-orders for PS4 have surpassed all expectations and we continue to work hard to fulfil the remainder of these pre-orders and to deliver additional consoles to the market for the many more gamers who want a PS4. Substantial further volumes of PS4 will arrive in the UK before Christmas."