Katie Hopkins won't be unleashing her controversial opinions on the 'This Morning' sofa for the foreseeable future, as bosses have scrapped her role following the backlash over her Scottish crash joke.
The former 'Apprentice' star caused fury last week after cracking a joke on Twitter about life expectancy in Scotland following the fatal helicopter crash on the banks of the Clyde in Glasgow.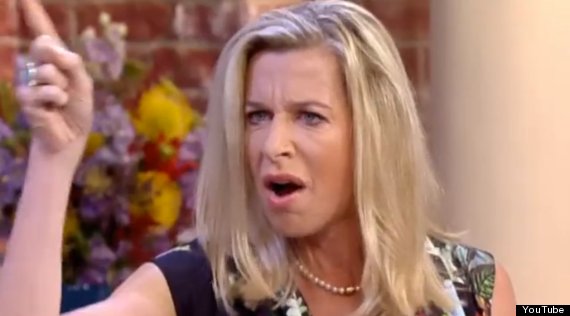 Katie Hopkins on 'This Morning'
ITV have now said they have "no plans for Katie to appear on This Morning at this present time" after a petition to ban her from TV gathered 87,000 signatures.
Katie later apologised for her tweet, which she said was "ill timed" and not related to the Clyde tragedy.
She also said in an interview with the BBC: "A healthy life expectancy for a healthy boy born in 2010 is just 59.5 years and I find that a really big figure. So I put that onto Twitter and of course that coincided with a terrible tragedy. And I have apologised for the very poor timing of that tweet, which then of course felt very horribly directed at entirely the wrong people."
Katie has recently been linked to 'Celebrity Big Brother'.
LIKE US ON FACEBOOK | FOLLOW US ON TWITTER
CLICK HERE TO WIN A HP PAVILION TOUCHSMART 15.6" LAPTOP WORTH £500!