All 10 Premier League matches this weekend will hold a minute's applause in tribute to the late Nelson Mandela.
Mandela died aged 95 on Thursday, and tributes have poured in from the world of sport.
A minute's silence or applause is usually reserved for figures within football, however the Premier League has made an exception for the former South African president.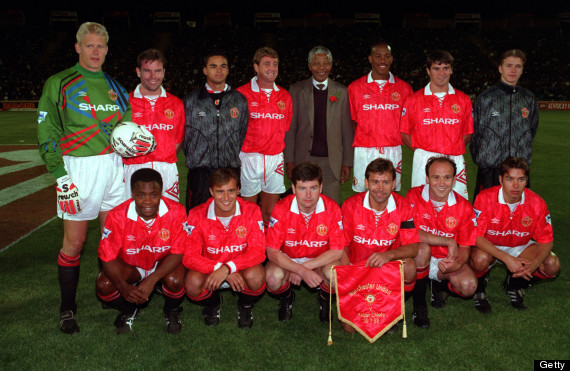 Mandela poses with Manchester United, on tour in South Africa, in 1993
The second day of Australia and England's Ashes Test in Adelaide was preceded by a minute's silence, hours after news of Mandela's passing was confirmed.
In April, there were no displays of respect at Premier League games following the death of former prime minister Margaret Thatcher, with many supporters celebrating her demise.
The flags at The Hawthorns today fly at half mast in honour of Nelson Mandela who passed away on Thursday aged 95 pic.twitter.com/lsaK3ryUxw

— WBAFCofficial (@WBAFCofficial) December 6, 2013
John Barnes on Nelson Mandela https://t.co/XJSjWxhVQn pic.twitter.com/nmXx9ly0YK

— Liverpool FC (@LFC) December 5, 2013