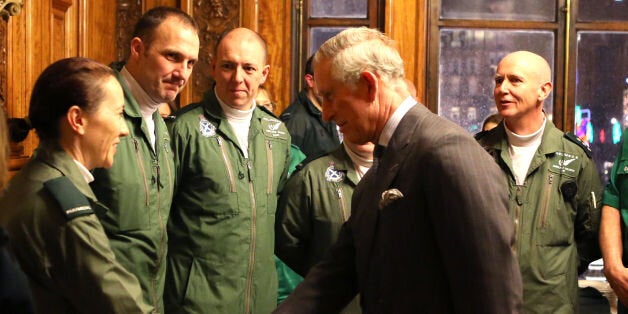 Charles spent around 10 minutes in the Clutha bar in Glasgow and spoke to some survivors who returned to the site for the first time, with one man on crutches.
The Prince heard about the complex rescue and recovery operation from members of the emergency services, met hospital staff who treated casualties and signed a book of condolence at the City Chambers during the two-and-a-half hour visit.
He also received a warm hug from eight-year-old Megan Faulds, the granddaughter of crash survivor Ann Faulds.
Glasgow Lord Provost Sadie Docherty said: "For me, him coming here today was a mark of the respect that he has for the city and for those who lost their lives.
"He spoke to members of the emergency services, with council staff and with those who lost loved ones.
"It's very appreciated by the city, a city that is grieving."
Two police constables and a civilian pilot were killed when the helicopter crashed on to the roof of the busy pub on Friday night while returning from a police operation. The crew members were captain David Traill, 51, and officers Kirsty Nelis, 36, and Tony Collins, 43.
Six people died inside the pub where live music was being played at the time. They were Robert Jenkins, 61, Mark O'Prey, 44, Colin Gibson, 33, John McGarrigle, 57, Gary Arthur, 48, and Samuel McGhee, 56.
Air crash investigators have begun an examination of the helicopter wreckage. Outside the Clutha pub, bags of rubble and piles of wood planks remain.
Owner Mr Alan Crossan said he invited Charles to visit the bar when it reopens for some "Scottish music and a pint".
Manager Saverio Petri, 49 met the prince while on crutches due to broken bones in his foot sustained as he worked behind the bar on the night of the crash.
He said his position in the pub meant he avoided more serious injury and he was able to help customers out and assist emergency crews.
Mr Petri said: "I was directly below the point of impact and that's why I am lucky to be in the position I am in.
"A small amount of debris and rubble came in and, as I've fallen to the ground, that's when everything came in and literally fell in front of me.
"A beam came down and trapped my foot but I managed to get the beam off me. I climbed over the bar and tried to get everyone out from that side of the bar."
He went on: "I went outside, taking more people out - this was all within three or four minutes of it all happening.
"I told a fire officer 'part of the roof has collapsed' and he said, 'no, the building's been struck by a helicopter'."
The manager said he appreciated the prince's visit. "I think it was a very genuine action," he said.
Ann Faulds, 47, was on a night out in the Clutha with her sister Nancy when the crash happened.
She introduced Charles to her granddaughter Megan, a pupil at Quarry Brae Primary School, who hugged the Prince.
Ms Faulds said: "She wanted to ask him about baby George but she was a bit lost for words."