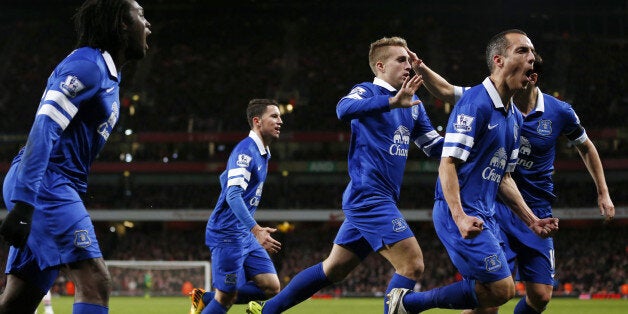 In a week when transition has cropped up as a daily description to excuse one manager's shortcomings, another has highlighted its merits. Everton might not have ended their own Arsenal hoodoo, but they have lost the inferiority complex which was worn like a badge of honour under David Moyes.
Gerard Deulofeu emerged to thump in a smashing strike and claim a point to end, arguably, the most satisfying week of Roberto Martínez's brief reign. The sheer surprise of his strike, when many Evertonians were perhaps willing him to pass to the overlapping Seamus Coleman, intensified the fevered celebrations in the away section, as a smoke bomb was let off and bodies tumbled down the gangways.
"I couldn't be happier with the week we've had," Martínez beamed. "I thought we came here and played better [than at Old Trafford]. We've got rid of that mental block."
This was a missed opportunity for Arsenal, whose frustration will be augmented by the fact they broke the deadlock with just 10 minutes remaining. A trophy drought extending to almost a decade is ample incentive for Arséne Wenger's underachievers, let alone Manchester City and Chelsea's dropped points on Saturday, and a seven-point advantage would have been all the more essential ahead of their trek to City's fortress in six days' time. Instead it is five over second-placed Liverpool and six ahead of City.
While it is too early to conclude whether this result will signal a momentum shift, Everton's emergence as a predatory, rather than plucky, team warrants further acclaim. Yes, they drew at the Emirates in April but the approach was noticeably different, and their response to Mesut Özil's strike further underlined their determination to live up to chairman Bill Kenwright's pre-season declaration Martínez would take them into the Champions League. Deulofeu's goal leaves them a point off City in fourth.
"I always said to talk about league games in December is foolish," Martínez said. "We look at the final third of the season and see where we can go. With the history and tradition of the club, with nine titles, we should be looking to get into the Champions League. It has to be an ultimate aim."
Such soundbites could be regarded as barbs aimed at Moyes, but this is the kind of positive mentality Everton's patronised supporters have been yearning for, and Martínez's targets are realistic.
Unchanged from their midweek triumph at Manchester United, their first success at Old Trafford, Liverpool, Chelsea or Arsenal in 14 years, Everton were the superior side for 40 minutes in north London. Arsenal had not lost at home to them since the Bruce Rioch era, yet looked disconcerted by the Blues' newfound confidence under Martínez. The first cries of "Come on Arsenal" came inside 17 minutes as the visitors enjoyed some sterile domination and Gareth Barry, memorably bypassed by Özil in Bloemfontein at the last World Cup, belatedly caught up with him to execute a crunching reducer. There was no suggestion of "bringing a knife to a gunfight" or "wanting to get out alive".
"The first half performance was as good as it can be from an away side at the Emirates," Martínez said. "To take the sting out of the game and stop Arsenal playing and creating a threat."
Chances were scarce, but on one occasion, Ross Barkley received the ball, dropped his shoulder and bypassed admirers Özil and Cazorla in a moment which intensified Martínez's "love" for the 20-year-old, and enamoured the watching Roy Hodgson.
"I couldn't be enjoying it any more. This season's going well for me," the Wavertree wonder understatedly said. Inevitably, more comparisons with Paul Gascoigne were made, as Gary Lineker tweeted he was struck by the "Similar stature, technique, confidence, ability to glide past opponents and a certain naivety."
Was it a difficult decision for Martínez to grant Barkley a regular starting berth this season?
"No," Martínez stressed. "When you deal with players you don't deal with their age, or how old they are. Ross is an incredible person and is so mature. He has got such a love for the game - I have never seen an England player with that mentality. He is quite unique and we needed to find a role for him to be able to be himself and express himself. He's got absolutely everything."
And what about more Gascoigne comparisons? "It's an interesting topic," Martínez cautioned. "I've seen bits of Ballack, bits of Gazza. We need to give Ross another 50 starts, at least, to see his evolution. That's what Ross needs. As a country, we need to be a little more protective."
Everton aren't all about guile, though. Barry and James McCarthy stymied Arsenal's flow, with erstwhile Evertonian Mikel Arteta often culpable of dawdling. Wenger's frustration was most animatedly expressed when Coleman fortuitously avoided a yellow card for clattering into the subdued Jack Wilshere, when he should have thanked the Irishman. It belatedly galvanised his lifeless side and Tim Howard excellently denied Olivier Giroud and then Aaron Ramsey during a late first-half surge.
"That's the regret I have. We didn't take our chances very well," Wenger admitted. The Frenchman also felt referee Howard Webb was too lenient with some of Everton's more cynical tactics.
"They put very good pressure on us and stopped our flow, but I just feel when we got into the passing they stopped us every time with a foul. And the disadvantage of putting the pressure so high is if you're not winning the ball back you get caught out.
As if to highlight the importance of the fixture, Wenger made a drastic triple substitution in the seconf 45 as Cazorla, Ramsey and Wilshere departed for Mathieu Flamini, Tomáš Rosický and Theo Walcott. The Gunners had missed Flamini's combativeness against Barry and McCarthy, and he came close to his second goal in eight days when he drilled a half-volley a few feet wide of Howard's upright.
With the scoreline still goalless the parallels with Everton's United victory were obvious. Mirallas, who struck the woodwork at Old Trafford, saw a shot deflect into the side-netting and Distin could not keep a header down before Özil ended the comparisons. Only Deulofeu astonished everyone, especially Szczęsny, when he unleashed an Exocet from just inside the 18-yard box.
The Barcelona loanee, 19, could remain at Everton for a second season. Martínez revealed the club has the option of extending his stay on Merseyside should Barça allow it, and is surprised at the winger's progress.
"He can create something out of nothing," he said of his compatriot. "And I've never seen a player that is quicker with the ball than he is. He's come a long way. I thought it would take him until February to get used to his role as a team player. He's got incredible belief in himself."
Wenger, meanwhile, seemed affronted when asked if Arsenal were genuine title contenders, as he crossed his arms and sat upright. "If we are five points ahead you cannot rule ourselves out," he responded.
Arsenal were 10th this time last year. "Life can change from one week to the next, let alone one year," Wenger continued. "We have shown consistency and have had an absolutely fantastic attitude, that is why we are different from last season."
Giroud almost deprived Everton of a deserved draw when his audacious late volley cannoned off the crossbar. The Toffees are now unbeaten in eight League games.
"I'm excited about fulfilling the potential of this group of players," Martínez added. There are few Premier League managers more festive right now than the Spaniard.
Related