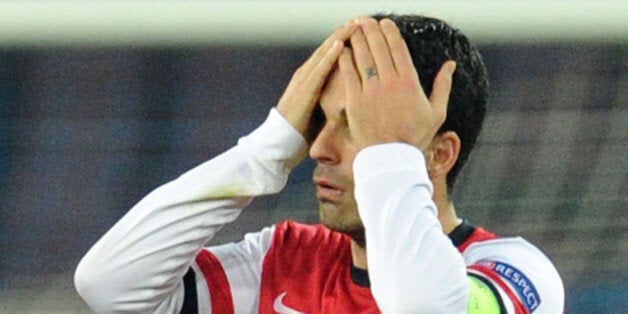 The prospect of a fifth successive elimination from the Champions League at the last 16 stage increased for Arsenal on Wednesday night, as their 2-0 defeat to Napoli demoted them to Group F runners-up.
Although qualification was not even assured before their trip to Naples, Arsenal were in such an advantageous position over Napoli and Borussia Dortmund the expectation was they would qualify as group winners.
Napoli needed to win by three clear goals to guarantee progress to the round-of-16, and struggled against Arsenal's impressive rearguard. Eventually they broke the deadlock with just under 20 minutes remaining, through Gonzalo Higuaín.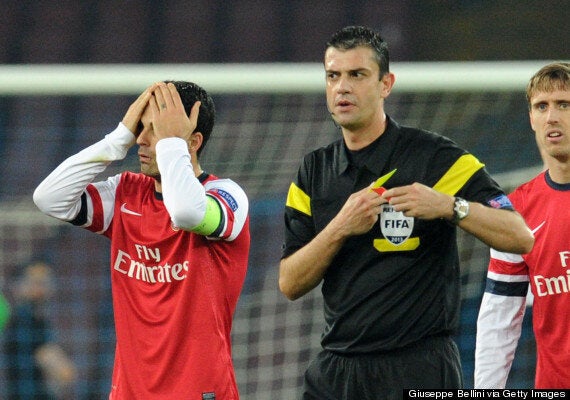 Mikel Arteta reacts after he is red-carded in Arsenal's defeat to Napoli
With Borussia Dortmund drawing in Marseille, Napoli were heading through as runners-up and enjoyed some sterile domination, aided by Mikel Arteta's red card. Only Dortmund were about to launch the kitchen sink at Marseille's goal, and Kevin Großkreutz struck a late winner.
José Callejón made it 2-0 with 30 seconds of the game remaining, but it wasn't enough for the Neapolitans, who have Europa League football to look forward to in the spring.
Arsenal, meanwhile, have not gone beyond the last 16 since 2009, when they were eventually eliminated by Manchester United in the semi-finals. Barcelona have twice ejected them since, along with AC Milan and Bayern Munich.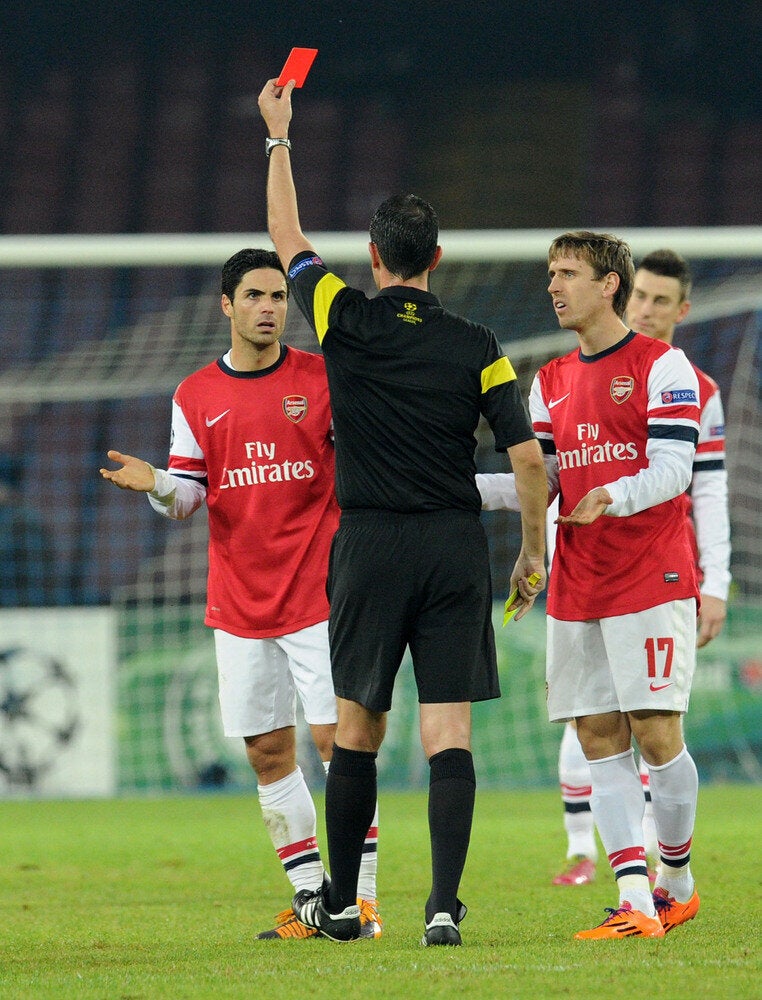 Napoli 2-0 Arsenal
They could meet two of the aforementioned sides again in the new year. The Gunners will be drawn alongside either Real Madrid, Paris Saint-Germain, Atlético Madrid, Barça or Bayern.
"That is the frustration (of not winning the group)," Arsène Wenger said. "Because you feel there was room to do better, but it could have been worse as well tonight.
"Of course, to finish second makes the potential draw more difficult. In the last four or five years we have had very difficult draws, so maybe this time we will be more lucky.
"But if you look at the teams who are potentially there, at least we know we will have a difficult draw.
"On the other hand, we have now qualified for a 14th consecutive year for the last 16 and maybe number 14 will bring us a bit of luck."