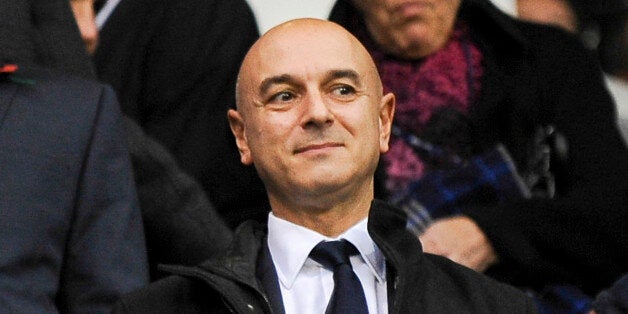 So the similarities with 2007 have extended to Tottenham sacking their manager. Six years ago, Spurs spent millions in the transfer window only to start the season dismally and dismiss Martin Jol during a Uefa Cup defeat to Getafe. André Villas-Boas' first four months of the season were not as dramatic, but he worked under the same demanding chairman and has suffered the same fate.
Daniel Levy has now "parted company" with two managers in the space of 18 months at White Hart Lane. The first man, Harry Redknapp, guided the club to a fourth-placed finish in 2012, only to be undone by Chelsea's miraculous Champions League triumph. And Villas-Boas oversaw Tottenham's highest points total in the Premier League era this year, only he was denied fourth by Arsenal.
Admittedly, Spurs experienced collapses in the second half of those seasons which were endemic of their bottling mentality. They really ought to have finished above Arsenal in both campaigns (something which hasn't happened since 1995), when you consider the Gunners' vintage of 2011-12 was arguably their worst in nearly two decades. Unlikely brothers in arms?
However, Spurs coaches work under the pretence they are a club who win trophies on an annual basis, when they have lifted two League Cups in 20 years. These unrealistic expectations increase the pressure on managers as wily as Redknapp or prickly as Villas-Boas, and inevitably Levy will wield the axe.
Whatever fans' qualms about Redknapp (and there are plenty), he actually got Tottenham into the Champions League, where they beat the holders of the competition, as well as Serie A champions-elect AC Milan. He was, perhaps, unfairly sacked, but as Tottenham crumpled in the spring of 2012, Redknapp was fluttering his eyelashes at the Football Association.
Villas-Boas was, at least, committed to Tottenham, and although he was responsible for their functional and charmless start to the term, he is a convenient scapegoat for Levy and technical director Franco Baldini.
Levy, again, inhibited Spurs, despite the £104.7 million he allowed Villas-Boas and Baldini to spend. Holding out for a three-figure sum for Gareth Bale (to the extent Spurs even encouraged Manchester United to bid for him) was familiarly avaricious of Levy, who succeeded in 2008 when Dimitar Berbatov was sold to United for an excessive £30.75m on transfer deadline day.
That greed, though, affected Tottenham's start to the season, and Juande Ramos was also sacked in October. Berbatov was Tottenham's talisman, yet his replacement was one of Fraizer Campbell and Roman Pavlyuchenko. Tottenham waited too long to sell Gareth Bale
Bale's transfer was confirmed a day before the window shut, and although Spurs had brought in their seven signings by that stage, there was a lack of satisfaction. They had bought, primarily, promising players, rather than proven players. Bale, a world-class forward, had to be replaced with players of genuine quality, but instead his departure was offset by a deluge of attackers who were not particularly in demand on the continent.
Erik Lamela, the club's record buy from Roma, has made two Premier League starts. Villas-Boas admitted recently the Argentinian had experienced a culture shock moving from one capital city to another, which appeared to be a euphemism for "I did not sign him." Baldini was Roma director between 2011-13.
Villas-Boas choreographed his own funeral on Sunday. Starting Sandro when he was unfit contributed to Liverpool's initial dominance, and fish-out-of-water Etienne Capoue and Kyle Naughton exacerbated the dire defending. Loaning out Benoit Assou-Ekotto was an inexplicable move, considering Spurs' issues at left-back over the past decade, while the heaviness of the defeat less than a month on from the 6-0 at Manchester City, indicated the squad has regressed.
It is convenient Fabio Capello, who recruited Baldini as his confidant while England coach, is the favourite to succeed him, though. Levy's delusion and awkwardness are not particularly appealing parameters to work under, and his nose might be put out of joint by the autocratic Italian, who has not managed a club side in over six years. Perhaps it is time he had a stab at coaching, or turned to Ted Lasso.