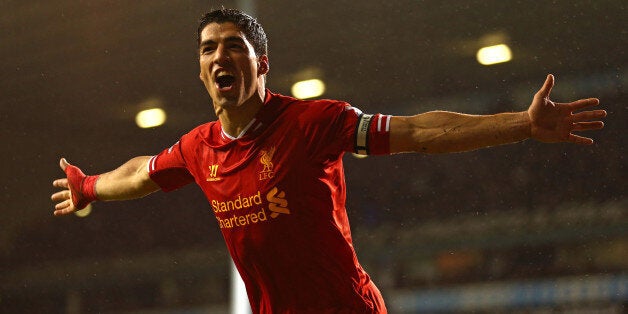 Football is laden with myths, but few are as potent as that of the role model. This is the term used by concerned citizens nationwide when a footballer falls foul of the law on or off the pitch, as sanctimonious parents scapegoat an individual in an attempt to excuse their own shortcomings, should their child copy one of their heroes.
Luis Suárez is not, and never was, an example for children to follow because of his profession. While parents can be forgiven for encouraging their children to play like him, they should also be responsible enough to inform their offspring that other aspects of a player's game should not be replicated.
So as seemingly inconsequential a gesture it was of Brendan Rodgers to make the Uruguayan captain for Liverpool's trip to Tottenham, it was also highly questionable and, arguably, deplorable.
The importance of the armband remains a significant matter. In England, it is inexplicably championed as the symbol of the leader and the paragon. In other countries, it is borderline irrelevant and only of use when communicating with an official. Joe Hart should have been made England captain 18 months ago because it would have ended a curious fascination with the role.
Ultimately though, it holds weight on these shores. Which makes it peculiar why so few seem concerned with Liverpool rewarding a player who has racially abused an opponent, bitten another, regularly cheated, dived and wanted to leave the club in the summer with such an honour.
Arsenal used to risibly pass the captaincy between players in an effort to compensate for no silverware, and that reasoning applies with Suárez, too, to a certain extent. Only it does not tally with the ethos of a club as historic and cultured as Liverpool, and harks back to the dark days of the 2011-12 campaign under Kenny Dalglish. Glen Johnson, Martin Skrtel or Lucas Leiva would have been more suitable alternatives to Suárez.
They still just can't get enough of him in Anfield, despite a rap sheet longer than their title drought. Some Liverpool fans are so forgiving of their No.7 they booed Evra again on his third trip to L4 since he was racially abused by Suárez, which perhaps highlights how much of a non-event Suárez's interim promotion is for Reds.
Related