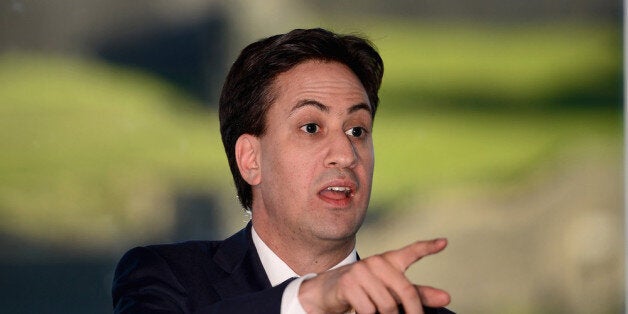 The five things you need to know on Monday 16 December 2013...
"Profiteering property developers that hoard land and councils that block developments will be swept aside in a 'non-stop drive' to more than double the number of homes being built each year in England, Ed Miliband will promise on Monday.
"Attacking 'stick-in-the-mud councils', the Labour leader will say he would order a national planning inspectorate to give priority to local authorities that want to expand if they are being blocked by neighbouring councils refusing to release land.
"Under the Labour plans, councils would be empowered to compulsorily purchase land or charge fees if developers fail to build on land for which they have planning permission. Michael Lyons, the chair of Labour's new independent commission on housing and a former BBC chairman, told the Guardian that Britain needed to recapture the postwar spirit when building homes was the national priority."
So, having taken on the 'Big Six' energy companies with his proposed 'price freeze', and set the political agenda on energy prices over the past few months, Miliband is hoping he can do the same by taking on the property developers. In his speech, the Labour leader will point out that the profits of the four biggest housing developers rose by 557% over the past year. I suspect he may be on to something here...
"BBC executives were paid millions of pounds in 'sweeteners' because of leadership failures at the highest level and a culture of cronyism, an influential committee of MPs has found. The Public Accounts Committee accuses the corporation today of a 'liberal use of other people's money' by allowing senior managers to leave with huge severance packages, which in many cases exceeded their already generous contractual entitlements.
"The criticism will increase pressure on Lord Hall of Birkenhead, the BBC's Director-General, and Lord Patten of Barnes, Chairman of the BBC Trust, after a series of failures that began with the disastrous mishandling of the Jimmy Savile scandal."
"The most senior Catholic in England and Wales has branded the government's pursuit of immigration targets as 'inhumane' and warned that rules preventing foreign spouses of UK citizens from settling here was damaging the development of thousands of British children.
"In a rare political intervention, Vincent Nichols, the archbishop of Westminster, urged the government to change a policy introduced last summer that prevents British people living with spouses who come from outside the European Union unless they can show an annual income of at least £18,600... The measure was a scandal, Nichols said, adding: 'Anyone truly concerned for the family as the building block of society, and realistic about the mobility of British people today, must see both the folly of this policy and how it is an affront to the status of British citizenship.'"
BECAUSE YOU'VE READ THIS FAR...
Watch this video of the late Peter O'Toole, who passed away yesterday, in which he delivers lines that are plainly beneath him, including 'Spice Girls' lyrics...
4) CAMEROONS TURN ON CAMERON
From the Daily Telegraph:
"David Cameron's government is retreating from his notion of a Big Society and failing to support volunteers and charities, a former adviser to the Prime Minister says today. Danny Kruger, who used to write speeches for Mr Cameron, said that Coalition policies are allowing big companies to run public services instead of the local groups the Prime Minister once promised to support.
"Mr Kruger made his comments in a report published today by the Centre for Social Justice (CSJ), a think tank with strong Conservative links... the report says that Government rules are making it impossible for charities and voluntary groups to take on new responsibilities... The report also highlights the pressure on charities caused by cuts in Government spending and the recent economic downturn."
5) MEET GERMANY'S 'CROWN PRINCESS'
"She already combines the decidedly Herculean roles of cabinet minister and mother of her seven mainly schoolaged children, but as of this week, Ursula von der Leyen will begin being groomed as the most likely politician to succeed none other than Germany's first woman chancellor, Angela Merkel.
"A conviction conservative, Angela Merkel's protégé and Labour Minister, will take on the job of Defence Minister in Germany's new grand coalition government which will be sworn in later this week.
"The surprise appointment not only marks the first time that a woman has ever taken on a defence portfolio in Germany... As Germany's Der Spiegel magazine put it yesterday: 'Ursula von der Leyen is going to be Defence Minister. Within her own conservative party, she can at last assume the role of crown princess.'"
From yesterday's Sunday Times/YouGov poll:
That would give Labour a majority of 76.
David Blanchflower, writing in the Independent, says: "George Osborne has failed the very tests he set himself in 2010 – and we are poorer as a result."
Gary Younge, writing in the Guardian, says: "Nelson Mandela has been laid to rest – but his legacy must not be."
William Hague, writing in the Telegraph, says: "Ukraine would be enriched by real democracy."
Got something you want to share? Please send any stories/tips/quotes/pix/plugs/gossip to Mehdi Hasan (mehdi.hasan@huffingtonpost.com) or Ned Simons (ned.simons@huffingtonpost.com). You can also follow us on Twitter: @mehdirhasan, @nedsimons and @huffpostukpol