Danny Dyer is one of the most divisive actors around, with as many fans of his cockney antics as there are critics of his wooden plank acting.
What's your favourite Danny Dyer moment? Let us know below...
More eyeballs will be on him than ever before from Christmas Day when he takes his typecasting all the way to the Queen Vic. As he prepares to make his much-hyped debut in 'Eastenders', at the same time as his latest film 'Vendetta' comes out on Blu-Ray and DVD, here are some of his greatest, and more dubious, moments so far...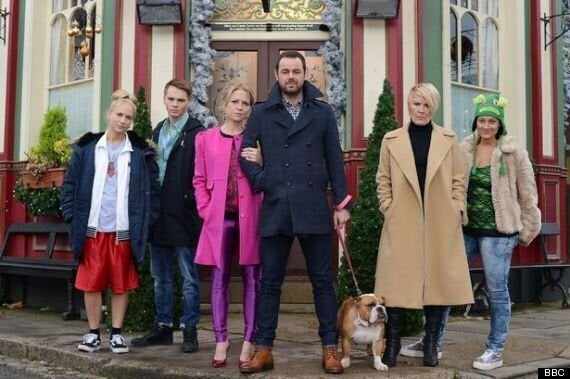 Danny Dyer outside his new home, on Albert Square
Before was the cockney wideboy we all know and love, Danny Dyer made his debut as a young club kid in this 90s rave culture classic. Dyer played Moff, a London lad transplanted to South Wales, who finds solace in dance music, drugs and a new group of friends (including a young John Simm).
The Football Factory (2004)
Dyer's second collaboration with director Nick Love (the Scorsese to his De Niro) wasn't the first football hooligan film but it was the one that really grabbed the public's imagination. And it was definitely better than 'Green Street' and 'Rise Of The Footsoldier'. As head of the Chelsea firm of hooligans, he went up against the Milwall mob, lead by his frequent co-star Tamer Hassan.
Danny re-teamed with Love and Hassan for this cockney gangster classic which transplanted 'Goodfellas' to the Costa Del Crime. An '80s-set crime farce that sees Dyer flee Thatcher's Britain after getting on the wrong of the law, it has a knowing sense of humour and its tongue in its cheek - something definitely missing from a lot of the worst British crime movies of recent years.
Grand Theft Auto: Vice City & San Andreas (2004)
This multi-million selling video game franchise has had many movie stars lend their voices to it, from Samuel L Jackson to Burt Reynolds. Danny Dyer memorably popped up in the 80s and 90s-set editions of the games as Kent Paul, a English chancer in the music biz, managing a Scottish heavy metal band with the delightful name of Love Fist.
The Real Football Factories, and Danny Dyer's Deadliest Men (2006)
When the success of 'The Football Factory' turned Dyer into a household name, he took the dubious decision to present in a cable TV documentary series based on the film. The follow up series 'Danny Dyer's Deadliest Men' did provide one infamous moment though, when Danny was on receiving end of a punch to the face from one of his subjects.
Danny Dyer: I Believe In UFO (2010)
Danny's second foray into television documentary was even stranger - he went in search of extra-terrestrial beings for BBC3, and even included a guest spot from the late Sir Patrick Moore. Not to be confused with Shaun Ryder On UFOs, which aired on the History Channel earlier this year, or Robbie Williams' ongoing quest.
After many rumours about him joining the soap - denied by both Dyer and the BBC - in October it was finally confirmed that he'd be stepping behind the bar of the Old Vic. He's due to make his debut in the Christmas Day episode. Will he be there as long as fellow East End legend Barbara Winsor was, or will be make a sharp exit? We shall see.
Whether you love him or hate him, you've got to admire Danny Dyer's honesty - he's the first to admit a lot of his films are hardly Oscar contenders. But his latest effort 'Vendetta' has been heralded as his best ever performance. Basically Death Wish in Canning Town, it features Dyer as a ex-SAS trooper who goes on a rip-roaring revenge rampage to avenge the deaths of his parents.
Vendetta is available on DVD and Blu-ray from 23 December. Danny Dyer makes his 'EastEnders' debut on Christmas Day.
Popular in the Community